Balinesis Fast and Furious ("Fasty")
Siamese Chocolate Tortie Point


(

PRA-negative)





d.o.b: June 11th, 2011
Spayed on September 19th, 2011 after a second C-section

Sire: Sokrates von Tamangur
Dame: Hello Kiddy of Noah's Ark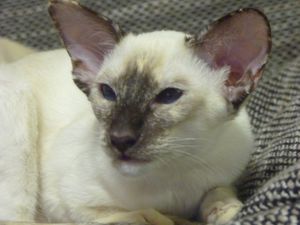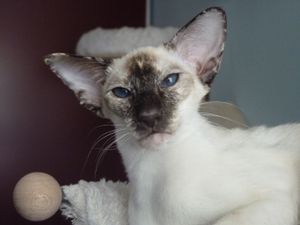 Fasty, 6 months old
Fasty 10 months
To read about Fasty's pregnancies
>> first litter, click here (text at the end of the page after the pictures)
>> second and last litter, click here

Fasty is my little clown, her tortie point gives her that funny look.

Her parents are the beautiful Sokrates von Tamangur and Hello Kiddy of Noah's Ark, my beloved first queen!
Fasty was the noisiest kitten at first, she had got such a strong temper from the very beginning, that's how she ended up with that name: "Fast and Furious"... (and also because someone's a big fan of cars and of the movie F&F)
Fasty used to push her siblings aside to have her mother all for her and always enough milk to satisfy her great appetite!
Fasty, two weeks

I had the kittens tested for the LH since out a mating of two variants, there's 25% chances to get a siamese SH, 25% chances to get a balinese, 50% chances to get variant siameses (SH siameses carrying the LH gene). I was very happy when I got the results, because except Flint who was for sure a balinese :-) all four other kittens were variants. It means that they can all be part of a balinese breeding programme, which is great news, because it gave Mirjam & me more choices to decide which kitten to keep among the litter.

By the way Mirjam told me she had made her mind to take Friday (she was hesitating between Friday & Fasty), I was veeeeeeery happy because from that moment I knew Fasty would stay home with me. Friday has a more extreme look than his sister who also has her own qualities. Time proved that we were right to be happy and optimistic about this litter because when Fasty, Friday and Flint went on their first Fifé shows, they got good results. All three kittens won at least once "Best in Show" (3-6 months kittens) and over other SH kittens! That's really something and I am quite proud!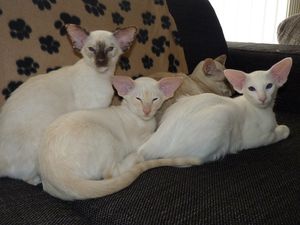 Our show team - October 2010

Fasty is my little girl, always purring, always moaning, and I love her, she's so cuuuuute!!
Fasty hates being shut in a room when I have to air the living-room (I usually shut cats in a room as I don't want them to go out alone on the balcony). Fasty hates to be in a different place as me, she always shouts (...yells) until I come back and she can actually see me.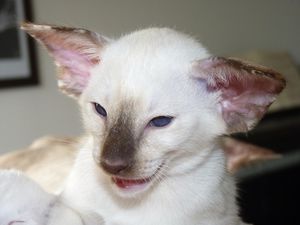 Fasty, 2 months old
Who can resist such a cute little face!! I didn't really like torties at first - at all! - but know I do and even very much lol. By the way Kiddy is herself a tortie-tabby-pointed girl.
Fasty has a promising type with a beautiful head and lovely ears. Regarding her body I must say that French Touch was a bit more elegant (higher on legs, longer body) but since I cannot keep all my kittens I had to make a choice. French Touch looks very similar to her mother, Fasty is different so I thought it was wiser to keep her... also what made me chose her over French Touch is her temper, not that she's been the nicest and cutest kitten, but because I love challenges and I wanted to "soften" her a little (French Touch like Fighter are two purring and very sweet kittens and I thought it would be better for them to have a nice pet life). Actually Fasty hasn't changed much, she's very capricious and she likes to rule everyone... and I love her all the same even if she thinks I'm her slave!

Back to her qualitiez: Fasty has wonderful deep blue eyes with a very nice shape. She has a strong head and a nice body with a good size for a girl.
And maybe because of her color and also nice type, Fasty reminds me of her grand-father Ozzcar CIA of Noah's Ark (on the picture below together with Luthien Tinuviel of Noah's Ark, also the kittens' grand-mother!) that I like very much: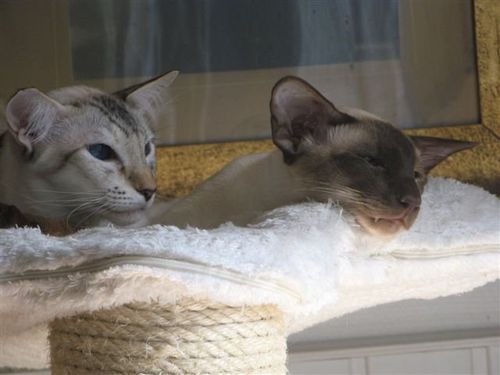 On her first day in show in Oyonnax, Fasty won her first Best in Show :) On the second day she was also nominated but lost BIS to her brother Friday!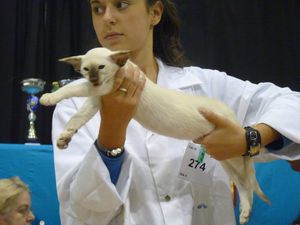 Fasty in Oyonnax
Thank you Angelika (Noah's Ark) and Mirjam (Blue Moon) for helping me be able to start my own cattery. I am so happy to keep Fasty. My first idea was to keep a girl (variant or hopefully bali) and only ONE kitten. After the kittens were born I soon realized it would be hard for me to keep only one kitten as I had a big crush for my bali boy Flint!
And I would like to thank Stefan & Rachela Ruf (von Tamangur) for allowing us to mate our girls with the boy they bred.
Thank you for trusting me!