Balinesis Flint Eastwood ("Tounet")
Balinese Foreign White Back to "Our boys"
(PRA-negative)
June 11, 2010 - August 25, 2011 - Flint sadly died at the age of 1 year 2 months and 2 weeks (>> click here to read more about him)
Sire: Sokrates von Tamangur
Dame: Hello Kiddy of Noah's Ark
No studservice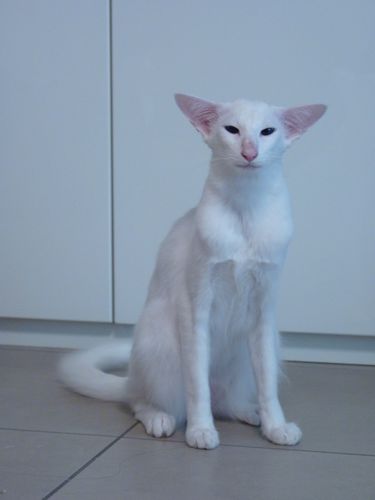 Flint 1 year old

Flint is my very first balinese cat and I am lucky he was born at home out of two variants.
Flint is an adorable little boy and I love him especially since he's a foreign white.
His parents are the beautiful Sokrates von Tamangur and Hello Kiddy of Noah's Ark my beloved first queen!
Flint was the tiniest at first and he didn't look like any of his siblings. Many people thought he was the less good in type. Indeed he had a funny look with his coat which was already a little different and made him look like an old man (like in the movie "the curious case of Benjamin Button"). That's why he was first called "Papy" (Grand-dad in French) just for fun! I wanted to name him Flint Eastwood because I am a big fan of Clint Eastwood's movies (really liked "Gran Torino") and also I found funny to give him the name of an "old" man name because of his look as a baby.
My favorite kitten was the kitten (Balinesis Forget Me Not) who unfortunately died at 3 days. I think it is very usual at first to become more attached to the tiniest little ones in the litter. The poor tiniest girl couldn't make it but after the autopsia I knew I couldn't have saved her anyway, which made me feel a little more at peace. I will never forget this first loss that really depressed me... it is quite a nightmare when a tiny kitten dies in your hands and that you can't do anything to save it :-( Who said breeding was easy?
After that tragic beginning I started to pull myself together because they were stil 5 kittens doing fine and willing to live. And this was possible thanks to some of my dearest friends who did all they could to cheer me up - thanks again!
At that time I gathered my courage to take care of the rest of the litter and Flint became my favorite. His face was so so adorable when he was only a couple of days!
At 3 weeks, he started to change a lot and I found him - objectively - very good-looking even if he wasn't as typy as his brothers and sisters. He has always got something special since he was little, something absolutely pure and magic...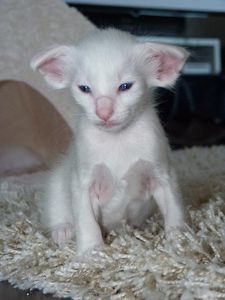 Flint 3 weeks
And as he grew up I watched his development with always greater pleasure and excitment!
He started to catch up with Fasty (chocolate tortie girl) and Friday (cream tabby point boy) who had been the best kittens of this litter since the start and he became a very harmonious and also quite well-typed little balinese boy :-)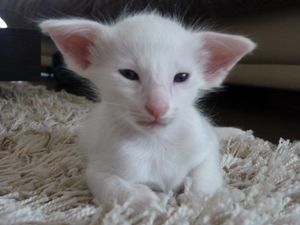 Flint 4,5 weeks
Now Flint has become a big and elegant boy, quite high on legs and with a long body.
His type is nothing "extreme" but still it is very harmonious with refined lines and a wonderful silky pure white coat.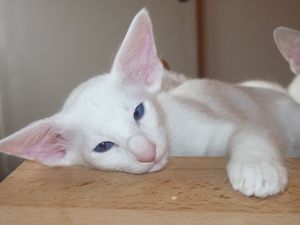 Flint 9,5 weeks
During his first show he drew attention to himself and was noticed by visitors, other breeders and judges.
He won his two first Best in Show in Paris while competing against his brother Friday who also was nominated. That's a great thing in the balinese history ;-)
Flint was also the only balinese this year (2010) tbat attended the World Winner Show, and I was quite proud to present him :)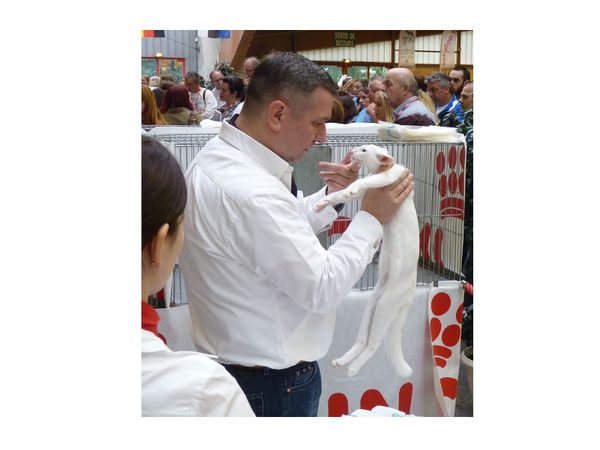 Mr Reijers & Flint during the WW Show 2010 in St Etienne, France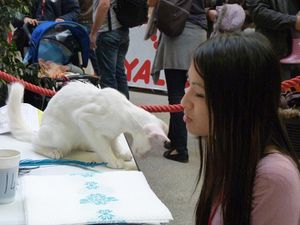 My Baby Flint and Me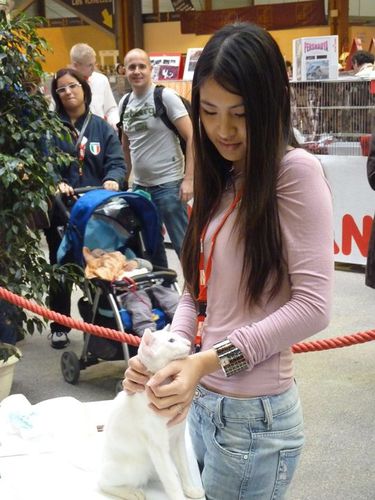 Flint was the only balinese at the WWS in St Etienne that year!
Flint Eastwood is my little mascot and I love him to bits♥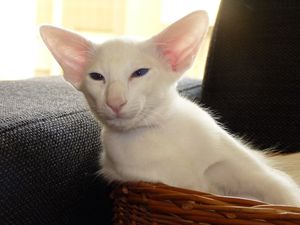 Flint, 4 months

Thank you Angelika (Noah's Ark) and Mirjam (Blue Moon) for making my dream come true! And it's only the beginning;))))
I also would like to thank Stefan & Rachela Ruf (von Tamangur), for letting me mate my girl with the boy they bred.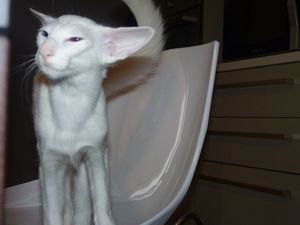 5 months - in the kitchen
I remember that day I was cooking my special chicken and Flint was more than interested... doesn't he look cute when he concentrates?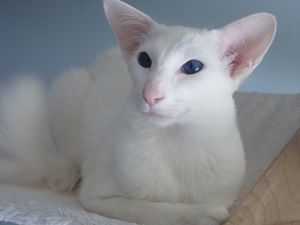 9 months and 1 week
Updates Sept. 2011
I am blessed I was lucky to once breed such a beautiful and sweet-tempered cat
Thank you Flint for you have brought so much happiness into my life and not only mine
Love you always & forever ♥