Balinesis Galenka ("Lenka")
Siamese Seal Tabby Point
(

PRA-negative)





d.o.b: March 27, 2011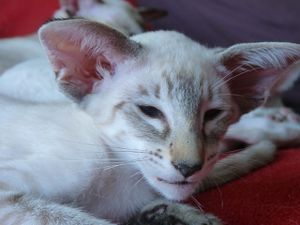 Sire: Ch. Int. Avalon Pendragon of Noah's Ark
Dame: Exquisite Taste Un Prince à Paris
neutered since June 2012
I made my decision to neuter her because she was calling all the time and though put to boys she never got pregnant.
I guess some cats aren't meant to be mothers and I hate to go against Mother Nature's will so I didn't try a hormon treatment. She lives happily with my other cats :-)

Go to Lenka's Gallery when she was a baby >> click here
Galenka was born in a litter of five and she has quite a special story.

Her mother E.T. stayed here with us for only a while until her owner could take her back home.
At first the plan was to do the mating Flint x E.T. but as my Tounet wasn't ready in time for E.T. who was calling all the time I had to come up with a plan B. That's how I ended up bringing handsome Avalon from Germany to France for a nice honey moon :-)
9 weeks later a litter was born and all went fine at birth. Sadly 4 kittens out of 5 died during the 12 first days and it was quite a nightmare. The first one died at 3 days of pneumonia, she had a cleft palate that I noticed after only two days. I tried to tube feed her but in vain, it was probably too late and she eventually left us. Then three other kittens got infected with some bacteria and crossed the Rainbow Bridge as well. May you RIP poor little souls. You can read the article I wrote one year ago >> click here
Well from the start Galenka was a strong little girl who showed lots of will power. She wanted to live and did everything to survive! I asked Kiddy to take care of the little one as the lost of 4/5 of the litter had unsettled E.T. a bit. But E.T. already proved once that she is a good mom as she had already raised a first litter in Switzerland :-)

Galenka grew up with kittens who were 3 weeks older than her but she was quite precocious and it wasn't a problem for her. If I remember correctly she was already interested in eating solid food at 2-3 weeks of age and learned to use the litter box very quickly! She fit right into the group :-)
Lenka is a variant girl, she carries the LH gene and I wanted to put her to Flint later. But as you probably know I tragically lost Flint last Summer.
I can still breed nice LH/BAL kittens with Galenka, she will have her first litter in 2012 if all goes well.

Galenka is quite a small female but strong and muscular.
I will certainly do a first mating with my Swedish boy Galak as he is a balinese and that he is a very big boy! He's the biggest cat here:-)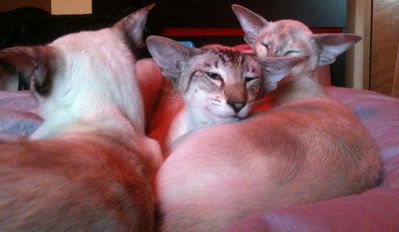 Lenka here with Pomme
(Page written and last modified in March, 2012)