Cats 09 - Fifé Worldshow 2009 St. Gallen (October 24-25)
(Page written in Nov. 2009)

After the World Show in Switzerland I think I am through with my first series of shows if I may say so...
Indeed I first brought the cats to the show in Les Houches to try and get their qualifications to go to the WS. Which we did!
The idea was originally to visit the WS on the visitors side and see cats coming from all over the globe.
Finally around mid-August after I discussed with Céline (Dreamlands) I began to think about bringing my own cats to international feline shows. As I was still in time to register my cats to some of these shows and get the qualificatio
ns needed to attend the WS I thought "well why not try?": I had nothing to lose...
At that time I was a "newbe" in the cat fancy and I didn't understand anything about shows. Hopefully I had some more experienced breeders explain me many things.
Here are the things that I've learned :-)
The first two shows I attended lasted two days like most Fifé usual Shows. Cats can get one certificate per day. The WS is special as each cat only gets a unique judgment, the second day is dedicated to the Bests in Show (= World Winners).
Cats who win Best in Show on Sunday in their category becomes a World Winner.
Within Group IV (balineses, siameses, oriental shorthairs, orientals longhairs - javaneses -, seychellois short and longhairs) six cats can become World Winners in different classes:
- kitten 3-6 months (male and female),
- kitten 6-10 months (male and female),
- neutered male,
- neutered female,
- entire male
- entire female
At the World Show in St Gallen five out of the twenty one present judges were assigned to judge Group IV : Dorte Kaae (Denmark), Waltraut Sattler (Germany), Maria Rihova (Czech Republic), Beat Rettenmund (Argentine) et Louis Coste (France).
There were balineses, siameses, orientals shorthair and only one oriental longhair and two seychellois shorthairs (no seychellois longhair).
It was great to see a couple of these cats. Last year at the World Show in Portugal I heard there were no balinese at all.
This year in Switzerland there were within the nominated to the Best in Show (Group IV) five balinese cats, four of them were Lili and Avalon (Angelika Kneifel), and Livius Verus and Quirina Vera (breeder/owner: Mirjam Kessler/Jenni Fereira).
I was sitting next to the stage near to the judges and the nominated cats when it was time for the Bests in Show. I was lucky to find a chair at the end of the day :-)
It was amazing to see all the people (owners, breeders and visitors) get so enthusiastic and that is what made every cat present on stage very deserving of being at the show because of all the noise people do when applausing or shouting out for they are overjoyed! Some cats like to shows but for most of them being there is meaningless since they can't understand the atmosphere surrounding them and I bet they'd rather be at home on their scratching posts!
At the World Show there were all in all six foreign whites including Daïsuki. He was registered in the catalog as "weiblich" et "ausser Konkurrenz" but these were mistakes: he is a male ("mannlich") and should have been registered in the kitten 6-10 months class ("jugend Klasse 6-10").

In his class he was competing with two other foreign whites: Sokrates von Tamangur (breeders: Rachela & Stefan Ruf, owner: Mirjam Kessler) and El Boy des Motards en Délire.

Sokrates is a very beautiful and elegant cat whose parents are Livius Verus of Blue Moon and Nashira von Tamangur. I was lucky to see these two cats at the World Show. My dream is to breed a beautiful foreign white balinese.
Sokrates was Excellent 1 (Vorzüglich 1)
Daïsuki was Excellent 2 (Vorzüglich 2)
El Boy was Excellent 3
Sokrates is a beautiful male and he totally deserved to win the Best in Variety :-) He was also nominated for the Best in Show. Well done!
Kiddy as for her got Excellent 1.
She does well reprensent her breed and is a promising girl!

She was judged by Mrs Sattler
.
The judge report states:

Type: Excellent long and elegant body, high on legs
Head: Excellent triangular wedge, excellent profile, very good chin
Eyes: Oriental shaped, excellent blue
Ears: well placed, large
Coat: Excellent soft coat, close lying. Excellent blue mask + points
Tail: Excellent length and fine shape. Excellent ....?
Condition: Well presented
Excellent 1

Kiddy wasn't nominated this time (getting a nomination at a WS is really hard) but I was happy enough with her result.
There are a lot of competitors at the World Show and the most important was to take part to it.
Besides it is great to attend the WS as a beginner in breeding!
This show was great thanks to the number of cats that came there (1325 cats in the catalog), but also the place (the Olma complex), the number of selling stands & of course the atmosphere...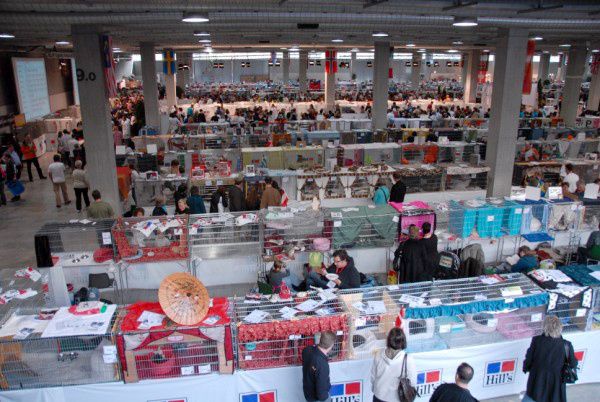 Some breeders spread out with pride their country flags on their show cages :-)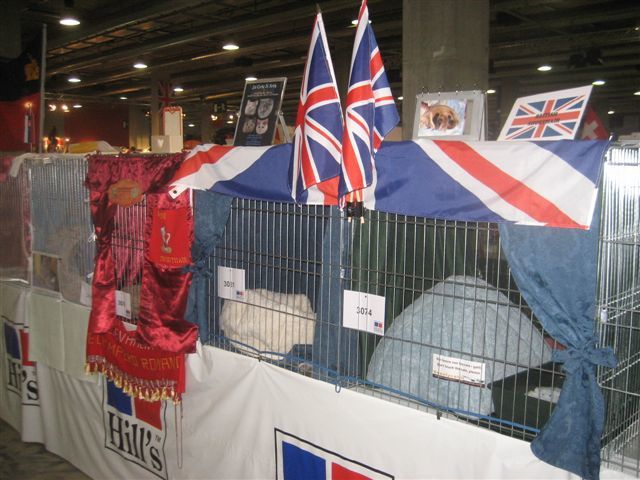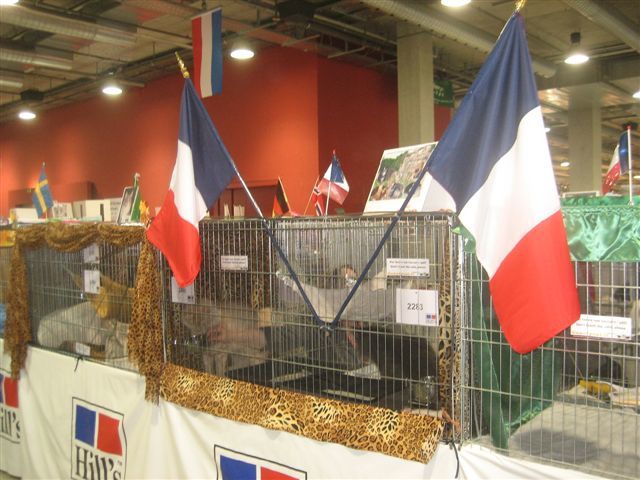 There were lots of sales events and diverse club presentations.
I met there some people from the SOBJ-Cat, a Swiss Club for Siamese, Balinese & Oriental (longhair and shorthair) cats, especially:
- Trudi Anliker (cattery Von Ruopigen) the President of the SOBJ-Cat. She gave me some advice to choose a fiancé for my Kiddy,
- Mark Müller (Taroba cattery). He told me about the SOBJ-Cat and explained quickly the aims and purposes of the Club,
- Mirjam Kessler (cattery of Blue Moon). She's the breeder of one of the most famous balinese cattery in Europe. She breeds such lovely and elegant balineses and I look up to her very much, I was happy I could talk to her :-),
- Rachela and Stefan Ruf (cattery von Tamangur) They have beautiful cas too and their seal tortie female won BIS this week-end (= became World Winner). Big congratulations to them!
- Christine et Jean-Bernard Véya (cats of Elemis), siamese breeders specializing in blue point cats, their favorites:-)
It was very interesting and fulfilling to get to know other breeders and to share a common and rising passion.
Finally lots of people happen to begin breeding by chance: after having fallen in love with a particular breed, after having one then two of them as pets at home. These little angels are so sweet and kind everyday that it rapidly becomes impossible to live without them, and even without breeding them!
The good thing when I go to shows is that I don't feel like I am an alien because I am soft on my cats: all breeders act the same way!