Fasty's first litter - September 19, 2011
>> To read about Fasty's first pregnancies & Garry's story please scroll down the page <<
G3 LITTER - CALENACAT'S ELITE (SIA w67) X BALINESIS FAST AND FURIOUS (SIA h)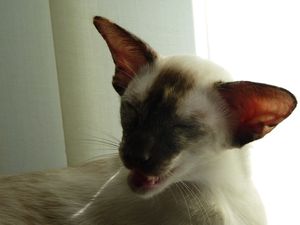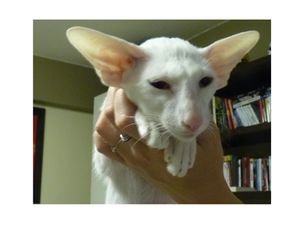 dob: September 19, 2011
3 kittens born in the afternoon (first kitten died at birth)
Balinesis Garry Potter, siamese chocolate point - boy (✝ Sept 19, 2011 - Nov 2, 2011)
Balinesis Gabrielle Potter, siamese foreign white - female (stays)

Pictures showing the kittens development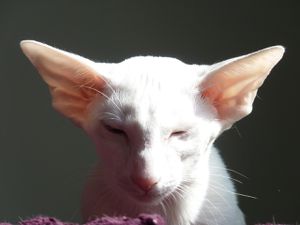 6 months old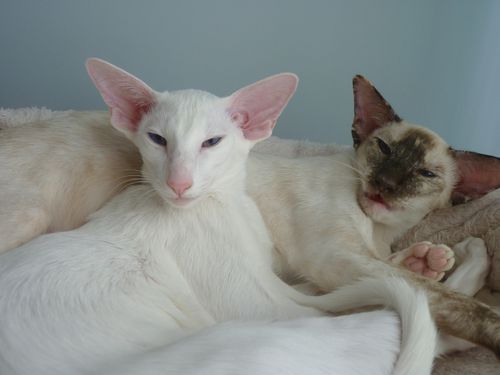 Almost 6 months old, here with mommy Fasty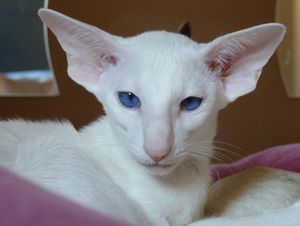 Gabrielle, 4 months old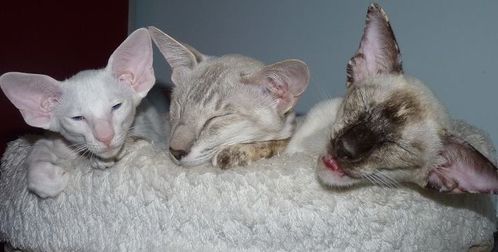 Gabrielle, 10 weeks old with mommy and granny
after a brief period of illness
read more here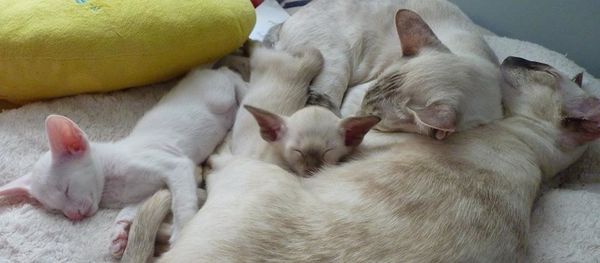 Last family picture with Garry before he died
read more here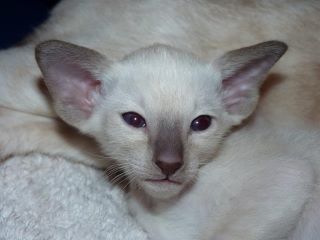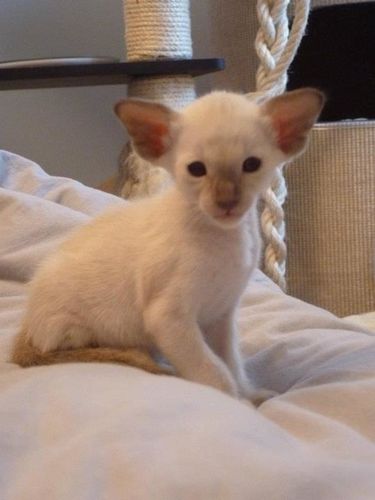 Garry 5 weeks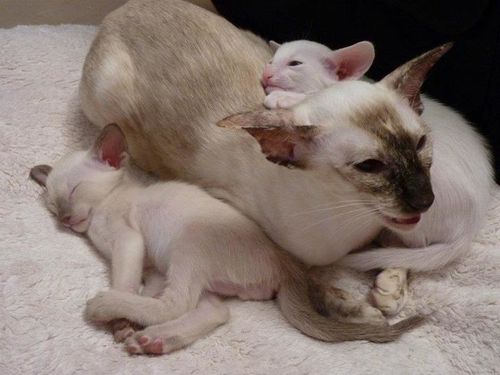 Fasty and her 5-week old kittens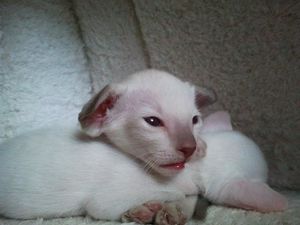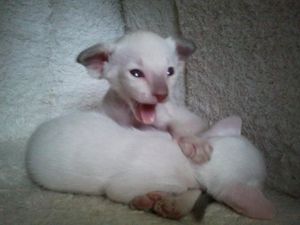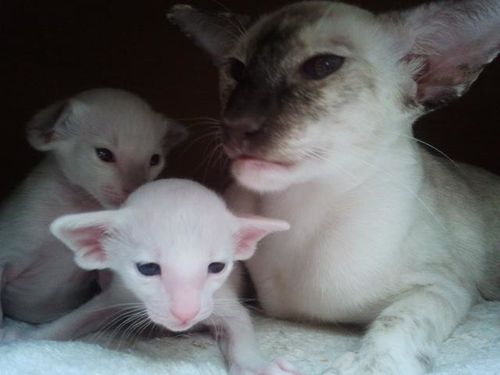 Fasty and her 18-day old kittens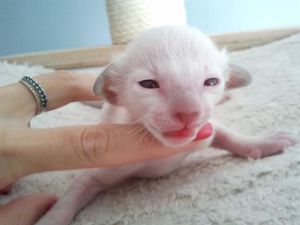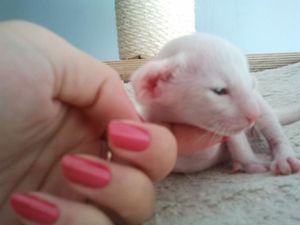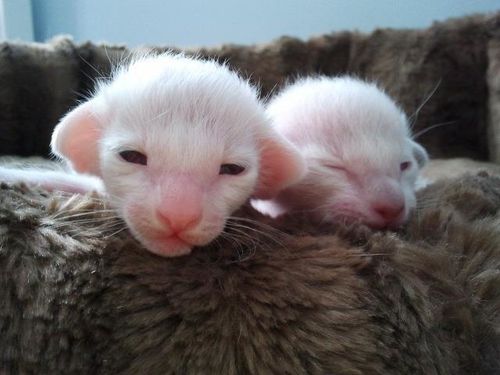 10 days old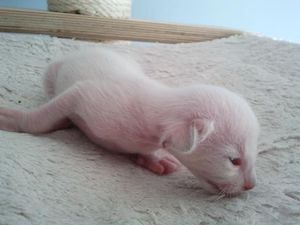 Garry, 8 days old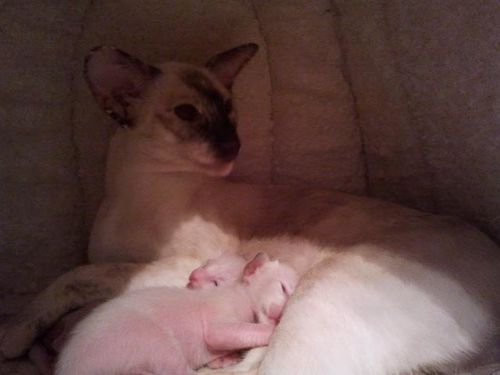 Fasty and her 8-day old kittens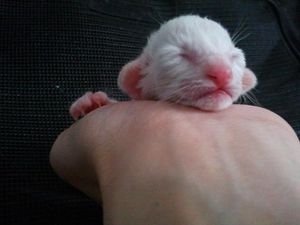 Gabrielle, 2 days old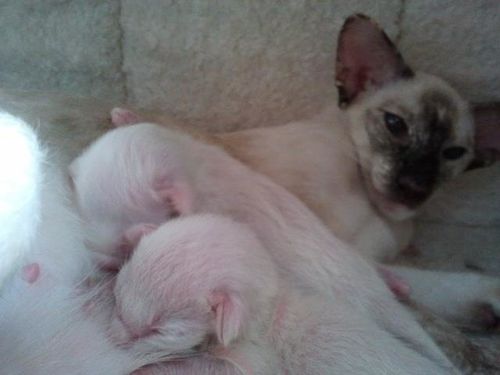 Fasty and her 2-day old kittens
The stories of Fasty's 2011 pregnancies and of Garry Potter
Fasty went through a first pregnancy last Spring 2011 which didn't end very well. On day 68 of pregnancy the kitten (there was only one kitten) was still not coming and I had to take Fasty to the vet emergency on June 9, 2011: labor had began hours ago, Fasty was still having contractions and the kitten didn't appear.
The vet on duty at the hospital that day was a surgeon (which was quite convenient and let's say a fortunate coïncidence) and before the surgery we checked by ultrasound whether the kitten's heart was still beating or not... it was already dead. Hopefully the C-section went just fine.
To be honest at first I was a bit stressed because I had never met such a young vet and surgeon before (and when I first had him on the phone I could tell he was pretty young - he's my own age actually) but like they say "in souls nobly born valor does not depend upon age"... and well I must say he proved to be a great one and I kinda look up to him very much. I was so very thankful Fasty pulled through and as her uterus was in a good shape it wasn't necessary to spay her (when the surgeon previously asked me if in case her uterus was in bad condition he could spay her I nodded right away of course though it was obvious that I would have been sad to "lose" Fasty as a breeding queen. But like always health matters the most.
I met the vets of the veterinary hospital under sad circumstances but looking back on this memory I would now say that it was a blessing in disguise. That morning I first called the vet next door but she told me that she didn't do any surgery, that she had to ask her colleague (there are two vets in this clinic) and that any surgery has to be "planned", i.e. they don't take care of emergencies. It was 6 in the morning and she gave me the phone number of that vet hospital I had never heard about before. As I'm originally from Paris I don't know quite well the area where I live apart from Geneva so when she first told me to go to that hospital I was quite desperate because the name of the city (Saint Martin Bellevue) didn't ring a bell and I'd figured it was on the other side of the world...
Actually it's 30 minutes drive from my place and it's been now more than 9 months that I trust the vets of that hospital to take good care of my cats when needed. It's a long way to go and as I don't drive I use taxi services very often... but what is money if the cats are well?
Well I'm quite happy to have found a reliable health facility for my cats. Most vets in the cities aren't fully equiped (you can't get pregnancy ultrasound & x-ray for example anywhere) and not all of them have enough place to dispose of dedicated intensive care units (Flint was under intensive care last Summer, and so was Gabrielle a couple of months ago), etc. So it's really reassuring to know that when something bad happens it can be quickly and well taken care of.

I really love my vets I think they are doing a fantastic job. And I'm happy that there is a vet hospital not very far from my place because there are less than 10 health facilities of that kind in France.
Now back to Fasty's story...

The vets advised me to wait a couple of months before putting her to a boy again whereas most breeders would tell me that by experience it's better to wait not too long before repeating the mating after a C-section.
As I had no experience (first C-section) but believed that sometimes practice beats theory I decided to give another try to the mating during Summer and only one month and a half after the operation. And it worked without any complications and this time Fasty was pregnant with three babies.
All went well until birthing process began. I wasn't there when the first kitten arrived. I don't know if it was stillborn or if it died because Fasty didn't free the kitten's mouth from the obstructing membrane he was wrapped into, something that females usually do to allow the kitten to start breathing.
Some primiparous queens lack of experience, that's why Kiddy was staying with Fasty in the nursery. But well those incidents happen... Poor Fasty she lost her two first babies. Hopefully I was with her for the next two kittens and I helped her shred the membranes and stimulate the circulation and respiration of the babies by rubbing them delicately so that to dry them and make them begin to breathe.
I must thank my friend Céline whom I was on the phone with at that time. I was a bit stressed given all the events that happened during Summer (Fasty's first pregnancy, Flint's loss, etc.) and it was comforting to talk to someone while Fasty was again in labour.The third kitten took a long time to come and I almost took Fasty to the clinic again as I didn't want to lose it. I already had phoned the clinic to make an appointment but when I took a bag to take Fasty and her first kitten I realised that the last kitten was eventually on its way out :-)
For weeks I was on cloud nine with Fasty's two lovely kittens. Garry was the cutest boy ever and his being chocolate point reminded me of his own mother when she was younger. I was very happy to have a foreign white in this litter as I had lost Flint not very long ago and that I was hoping for a kitten that would evoke his memory. By the way that's why I chose an angel name for Gabrielle, she was special to me from the start. As for the boy I named him Garry Potter after Harry Potter of course. And when he sadly died at 6 weeks of age I decided to add "Potter" to Gabrielle's name as a souvenir (at first I had chose another second name for her).
Garry died short after the World Show in Poznan that I attended this year (Oct. 2011) with my lovely boy Galvin Klein. When I left I had somebody watch the cats at home for me of course but it seemed that Garry showed no signs of illness at that time. It was a shock to me when he suddenly died in my hand. I had noticed just ten minutes ago that something was wrong with him. Autopsy was performed the day after he died and the analysis showed that I couldn't have saved him, the inside of his body was already too damaged even if nothing was clearly apparent on the outside.
You can read more about Garry here
Here are some vids of Fasty and both Garry & Gabrielle...