Fasty's second litter - April 4, 2012
Vildbackens Vurdalak x Balinesis Fast and Furious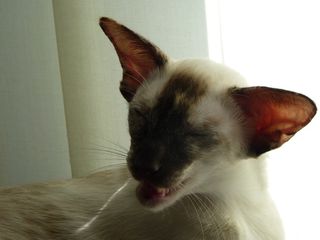 (Galak, Balinese seal point and Fasty, siamese variant chocolate tortie point)
Litter of three kittens born on April 4, 2012 after a C-section around 1-2am
Thank you Dr L. and Dr F. you did a great job!
Balinesis Harvey Davidson, red/cream point boy (variant)

Balinesis Harry Kasparov, red/cream point boy (balinese)

Balinesis Hanukkah Hope, seal point girl (balinese)

Click on the kittens names to access their personnal galleries
>> To read about Fasty's pregnancy and the kittens birth scroll down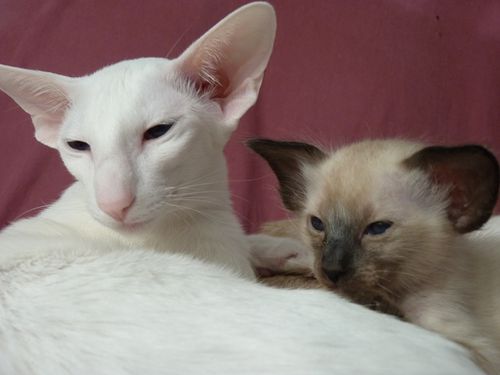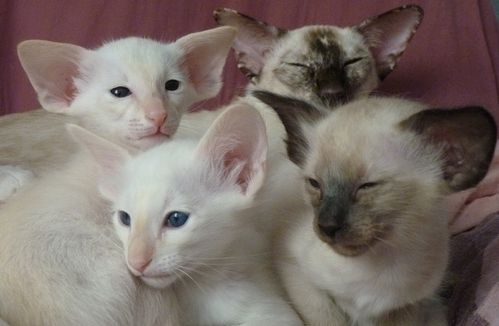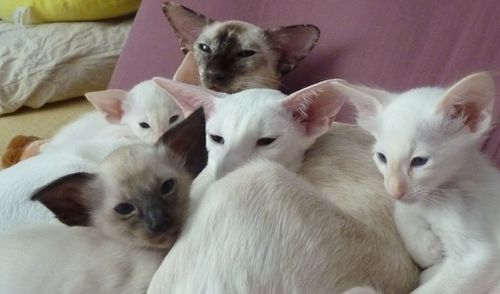 Fasty, Gabrielle and the 6-week old kittens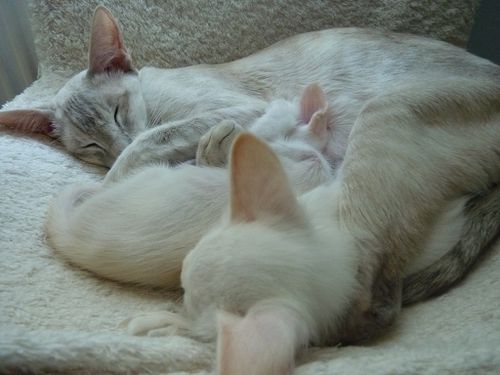 Boys and Kiddy at 41 days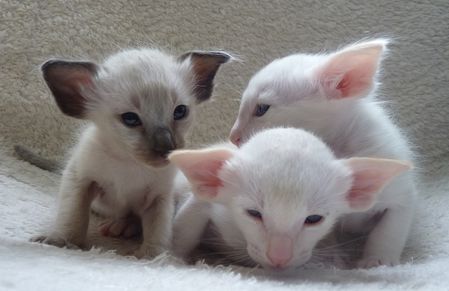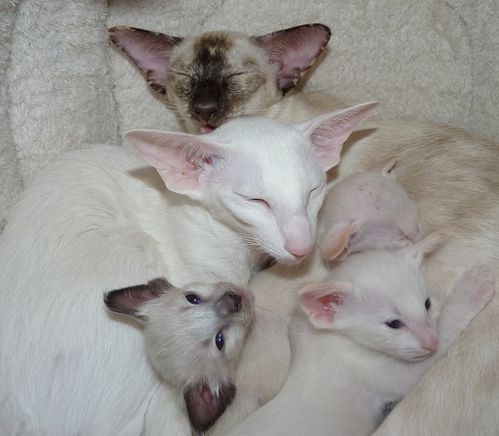 At 22 days old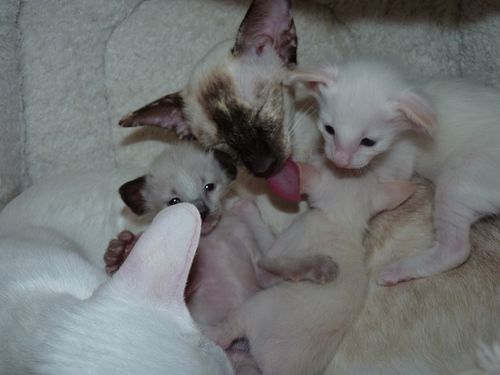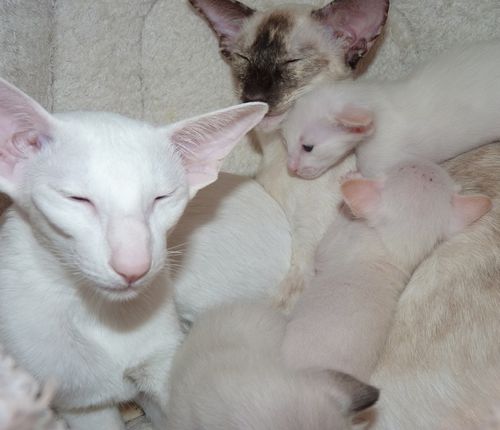 At 3 weeks with Mummy and Gabrielle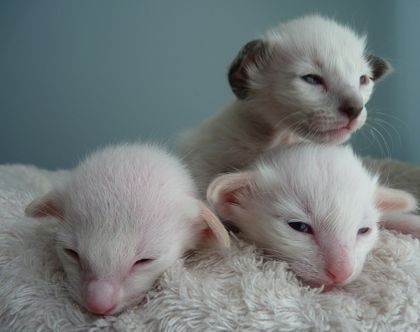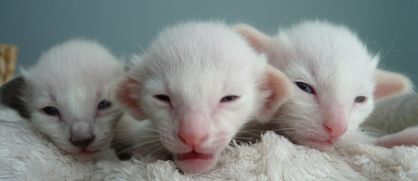 At 15 days
Fasty and her 1-week old babies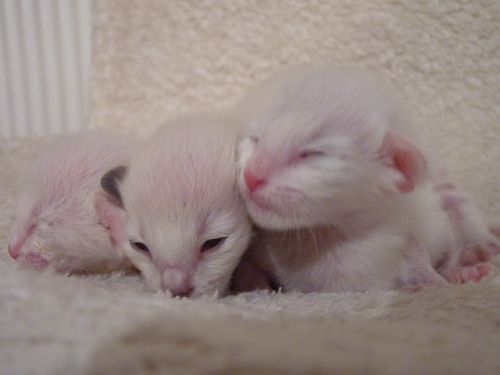 Kittens at 5 days old
from left to right: Harvey, Hope & Harry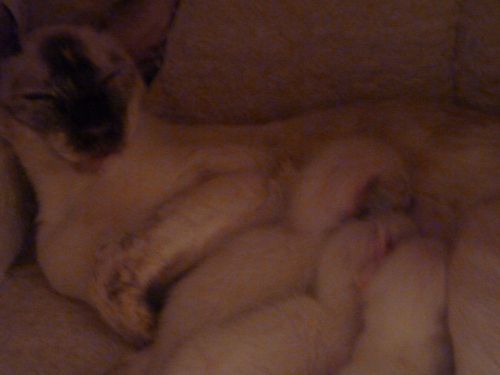 Fasty recovering very well from her surgery (C-section + spay) and her 5-day old babies at the milk-bar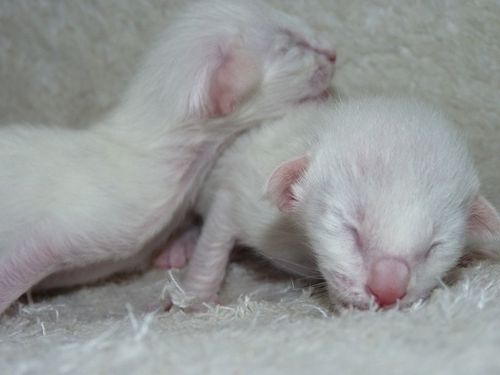 Boys at 3 days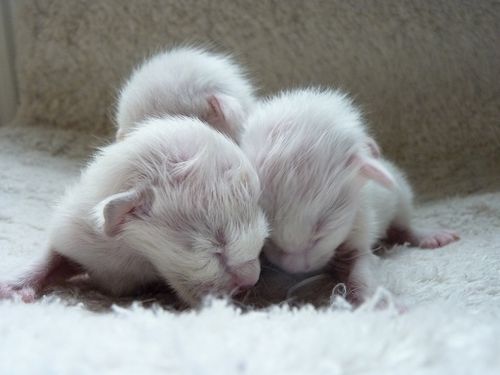 Kittens at 3 days
The story of Fasty's last pregnancy
(written on April 11, 2012 during a sleepless night >> "the night is my kingdom"...)
Last January short after Kiddy and Galak mated, Fasty also went in heat so I decided to put her to the boy as well. As Fasty first pregnancies didn't go as good as could have been (click here to read about her first C-section) I thought it might be a good idea for her to have a litter at the same time as her mother Kiddy because in case Fasty lacked of milk or failed to raise properly her kittens Kiddy would be able to help: she already proved in the past she can be a good, sorry, the best foster mom ever!
Three weeks after the first mating with Galak and as Fasty didn't pink up I thought she wasn't pregnant and went on with other plans. Little did I remember that multiparous females do not always pink up even when pregnant. When I tell other plans I mean that I may be expecting more than just two litters within the next months... what was I thinking lol? It's true that I'm dreaming of babies but mostly human babies lately :-)
By the way the vet (a nice and young woman) who was on duty the night I took Fasty to the emergency last week asked me I wasn't thrilled enough with my kittens as we were talking about babies. But I think it's two different things and before being a breeder I'm a woman. Besides I think that it's nothing unusual that women of my age think about setlling down and having a family. It only remains for me to find the right guy now (where on earth are you hiding my Prince Charming....?!!). I'll have a baby when pigs have wings. Well I am just joking I hope that will happen before, I'm not that desperate! it's just I'm very demanding, which is different:-)
Back to Fasty...
One month later I started to notice that Fasty she was acting strangely. By strangely I mean that whereas she usually likes to rule everyone (everyone = mostly me, her slave) and decides when SHE wants to be cuddled, when SHE allows you to have her sit on your lap, etc. she suddenly was sticking to me like glue. And breeders know that pregnant females tend to be veeery affectionate, more than they usually are (if they already are).
So when I took Galvin to the vet clinic again for his last heart ultrasound check before his castration I asked for an X-rays for Fasty... and that day her pregnancy was confirmed: she was expecting 3 babies. Fasty didn't have a big and round belly until the very last week of pregnancy so without a check it would have been hard for me to guess and know for sure whether she actually was pregnant or not...
Before the 65-66th days of pregnancy I didn't worry at all. Maybe because I was absorbed by Kiddy's third litter who was just born a week ago. But as the memories of last year were still haunting me and that I was trying to chase away bad luck by thinking positive I tried not to worry.
Nevertheless last Tuesday I had a strange feeling (woman have a sixth sense!) so I stayed home in the afternoon. Her waters broke but nothing happened within hours. I decided to go to the vet again and of course it was already 9p.m. so I had to go to the emergencies. It was windy and stormy that day... just like the day before Flint died last Summer. So no need to tell you how I started to panick still without showing any signs on the outside. In the car driving to the hospital I tried to keep the conversation random, talking about everything and anything and hoping that all would go just fine.

Fasty was upset to be locked in the sturdibag but well in the car you always have to be careful and I didn't have any harness to let her stay with me, but as soon as we arrived she was relieved and even purred on the vet's lap. The good point is she seemed in very good shape, Fasty is quite a strong female, she east well and is quite active so the vet told me she (yes it was a she that night if you're paying attention;)) didn't think that it was needed to run some test to check Fasty's condition so we just check by ultrasound that the kittens hearts were still beating and by X-rays whether the kittens started to move or not and whether a surgery would be needed or not (depending on the size of their heads and the size of Fasty's cervix).
The vet told me she wasn't sure Fasty would be able to give birth on her own, but that the labour might also have not begun yet... which was unlikely because her water broke hours ago.
I thank my friend Céline & Angelika, I called them that night from the hospital because I always need some advice when all stressed out. But in the end it's always my decision of course. Well it's still reassuring to have other people and breeders opinions because they've very often already went through the same experiences with their queens.
Because I had this strange feeling since the morning that day I decided it would be wiser to go for surgery. At that time the babies were still alive and it would be terrible if after the night they all died, I would never forgive myself. Of course a surgery always have risks but Fasty's condition, again, was really good. I didn't want to take a "chance" (strange word here) to lose them, as it was also planned that this would be Fasty's last litter. She is a beautiful cat but not the best mom. Somehow she's still a baby and she's quite lost when she has babies, I had observed that with her previous litter (Garry/Gabrielle). But since she's my last "link" to Flint I wanted to give her another try and have a second litter with her.
I asked the vet that Fasty'd be spayed at the same time so that another surgery wouldn't be needed months later (to sterilize her). I still have in mind Lili's ( Pippastro Lili'r Maes) story at Angelika's who sadly passed away short after her C-section without waking up... Well those sad things happened but it's always so very hard especially when the queen is a young one. I've been through quite a lot already with my cats since I started to breed but have been "lucky" I never lost a queen during a pregnancy of after she gave birth or was operated... I never lost a young queen and though when I try and imagine how it feels it makes me cry. Lili was Kiddy's age, as well as Lulu at Sylwia's (Divine Madness) when she died.
Well enough with sad memories.
The good news here is Fasty and her three babies have been doing fine.
Fasty has less milk (or a "poorer" milk) than Kiddy and kittens are growing more slowly. It took them a few days to reach again their birth weights but I didn't worry as they all seemed willing to feed and in good conditon. Besides it can happen after a spay a queen is not able anymore to lactate. Well Fasty does has some milk somehow so I'm happy, but I still need to bottle-feed the kittens and help her out a little bit.
There are two boys and one girl. I'm not sure but I think there is a seal (tortie?) point variant girl, a bali and a variant boy, both cream/red boys!
Kittens weigh around 150g so they are smaller than Kiddy's kittens but they have different mothers so it's not necessary very relevant to make comparisons.
I would like to thank again the vets who took care of Fasty that night (so if you read this blog, thank you very much Dr L. and Dr. F) so that I could go home and wait without worrying. After the vet called me around 2.30 a.m. to tell me that all went fine, I could finally consider to go to sleep. Actually I was eating some pizzas, I am quite used to eating at night when I can't fall asleep.
I think that with Fasty we've came full circle. Her first pregnancy brought us to the emergencies and ended up with a C-section, and the same happened here with her third and last pregnancy. And now she's spayed. I think I will rehome her in a few months and go home with her offsprings (Gabrielle + I may keep a kitten in this current litter), hopefully she can leave with one of her babies and live her new family happily ever after. I like happy endings like in fairy tales;-)