Fifé Show in Oyonnax (France) - September 2010, 11th-12th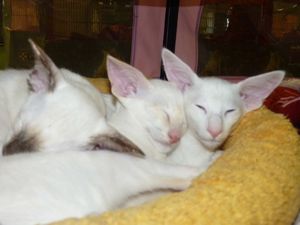 We woke up at 5.30 last Saturday, to get ready to drive to Oyonnax (France) because Fast and Furious, Friday and Flint were just 3 months old, and ready to go to their first Fifé show. It was a one hour and a half drive. We parked near the Valexpo and didn't wait long for the veterinary control.
We were very excited to go to this show, it was the first since our last in Yverdon, which was before Kiddy's mating with Sokrates in Switzerland. What's more, it was our very first show with kittens from our own cattery: Balinesis :)

The kittens were accompanied by our neutered male Daïsuki, and all weren't stressed and behaved themselves. In France, the good thing is we can bring our own cage to show our cats – so they feel at home in there.


The kittens were 3 months on their first show day, I think there were the youngest ones!
Friday was judged by Ms Milcent on Saturday. She liked him but doubted that he was a red-tabby-point boy: she told me to have his color confirmed, he's more like a cream-tabby-point kitten. I must admit, I am quite lost when it comes to colors, it's our very first litter, so I have no other kittens to compare with, and red and cream are not the most well-known and bred cats, so…
Because of this little color problem, Friday wasn't nominated, and I was a little sad… He just got his Excellent 1 in the red-tabby-point color.

Flint was also judged by Ms Milcent who was happy to see a Balinese cat, they are so rare! Besides, he's white, and lots of people kind of like this color for Balinese and Siamese cats. He got his Excellent 1.
Fast and Furious was judged by Ms Anciau, who liked our little girl very much and nominated her for the Best in Show against a seal point kitten from Kachgaar cattery (Martine Bureau, France). Fasty won unanimously, and made us very proud! Fasty did just as well as her mother Hello Kiddy of Noah's Ark.
Our neutered male got his last CAP and is now Premior. He was judged by Ms Anciau on Saturday, and she liked him very much. Indeed he's a big boy, high on legs, with a very long body. He doesn't have an extreme but still, he's harmonious and very adorable with a friendly temper. He was preferred to a Balinese boy from France, and chosen for the nomination to the Best in Show.
On Sunday, Friday was under cream-tabby-point and it was Mrs Pahl who judged him. She loved him even if he was very noisy :) He's a very temperamental cu te little boy! "Hello, it's me, and I have a big and funny voice!".
Fasty was judged by Mr Filler, who asked me if she was nominated the day before because he noticed her. He liked our tortie girl a lot, and nominated her for the Best in Show.
Flint was also seen by Mr Filler who liked him a lot. He behaved himself very well and tried to "seduce" the judge with his long and magnificent tail ;) Mr Filler told us that he preferred Fasty, so Flint wasn't nominated, again. Anyway, he got two Excellent 1 on his first week-end in show!
Daïsuki was judged by Mrs Pahl. My friend presented him and I missed th e judgement because I was waiting two tables away with Flint for Mr Filler. Fortunately, I always go to shows with my sweet half so we can be at two places at the same time if necessary. However, I still prefer to be presnt for all our cats' judgements if I can, I love to hear the comments from the judge, it's very interesting, and they often point out details that I don't usually notice on my own.
When time came for the 3-6 months BIS for Group IV, I was very proud, because the two nominated kittens were ours: Fasty and Friday.
This time, Friday won against his sister :)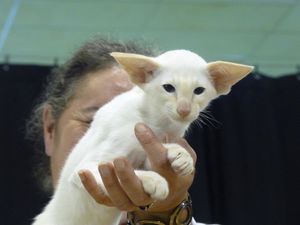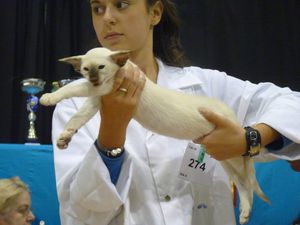 Showing cats is always a great time. The whole week-end is tiring because it lasts long for the cats and us.
Hopefully, we meet there breeders whom we can chat and share with. Visitors also ask lots of questions. I noticed that people often are wrong about what a Siamese/Oriental cat look like. Besides, they often know the seal-point one only, and the foreign white cat and the cream/red or tortie points look very strange to them. I spent the whole week-end featuring our precious breed and it was funny to remind of our first show, which took place one year ago in Les Houches, because at that time, we were the ones who asked lots of questions and were new in this show and breeding universe.
Especially last year, on our first show, we met Annette Chevalley and her female (who still was a kitten) Calenacat's Sweet Sorceress. Now Sweety is all grown-up and all the more beautiful. She was nominated last year at the Worldshow, and since then, she won lots of BIS and Best Opposite. In Oyonnax, she was 2nd and 3rd for the Best of Best.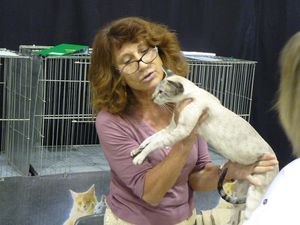 Sweety with Judge Milcent

Speaking about the Worldshow, it's coming soon now. So, what's next now?
Our kittens now are qualified to go to the Worldshow. In the meantime, we may be going to the show in Paris next 16-17 October. I look forward to it, this trip will also be a good time to see my parents and some of our friends again. It's already been 1,5 year since I quit Paris to come and live near Geneva. It was also at that period I decided I wanted to begin to breed… Time really flies, as always! I am happy to go to the Worldshow this year again, I hope I'll meet there wonderful cats... and people!