Gabrielle's first litter - October 30, 2012
Vildbackens Vurdalak x Balinesis Gabrielle Potter

(Galak, Balinese seal point and Gabrielle, siamese foreign white)
** We have a special thought for Garry Potter, Gabrielle's brother, who died a year ago already.
Gabrielle was named after her brother, hence the "Potter" ;-)


November 7th, 2012
The story of Gabrielle's "pregnancy" until delivery!
When Gabrielle started calling a few months ago, I decided to put her to Galak as she was old enough to meet with a boy. At that time Galak had already sired two litters after he got both Kiddy & Fasty pregnant, so I was hoping it would work well with Gabrielle too. Surprisingly it didn't the first time but I didn't surrender, and we tried again a couple of weeks later when she again went in heat.
Then I expected some signs of pregnancy but Gabrielle didn't pink up, and as time went by her belly didn't seem to have swelled. Gabrielle is very well-socialized and she loves to play with the other cats a lot, and since to me it was quite obvious that she wasn't sexually mature yet and that it wasn't an infertility issue (I didn't want to think that she wasn't able to have babies at all and decided to wait until her next heat) I let her alone and she was a happy and an amazing auntie to Gina's babies and Woki.
This is why it came to be as a complete surprise to me when ten days ago I noticed that she had produced milk! After I checked the dates I realized that she was actually pregnant and due in a few days... I was both scared and excited, and calmed down to get ready for the forthcoming birthing!!
By the way here is a video of Gabrielle feeding her own milk two days before birthing... I had never seen a queen do that!!
On Monday, Oct. 29th it was day 67, Gabrielle was her same old self and was still playing, especially with Poppy & Woki. Later at the end of the day I saw her having discharges and licking herself quite often. I understood birthing was soon to come and decided not to go to my dance classes.
I hate to miss a class because then it makes it difficult to find enough motivation to go again the week after -- hopefully I have discovered I do enjoy dancing, which is really a brand new world to me, I am a real stay-at-home person, remember? :-) -- so it was REALLY because being there for my females during birthing matters A LOT to me that I chose not to go! (And I went to my dance classes last Monday!)
Gabrielle eventually started labor around midnight, and fortunately it progressed quite fast, her uterine contractions were important enough and she expelled her only kitten short after with my help. Indeed the kitten seemed stuck at first and and I could see that he wasn't wrapped anymore (Gabrielle had licked herself so much that it shred the amnotic sac). I helped pulling gently and steadily the kitten until he was delivered.

The beauty of birth is a very rewarding experience and Gabrielle and I are very happy and proud to let you meet her son, that I chose to name "Balinesis Hakuna Matata" (the H year is never gonna end... *sighs*) but his nickname will be "Simba" ;-) Yep I'm a big fan of the Lion King, still one of my favorite animated movies ever, and I also enjoyed very much the musical based on it (the one in Paris debuted in 2007 in the Théâtre Mogador -- in 2007 I was still living in Paris!).
Why Hakuna Matata? First of all because after 4 litters born this year my imagination for H names is starting to fade away, and secondly because I found it funny to name his like that because he was born without any complications, i.e. with "no worry" ;-) And last but not least, when I show pictures of him to people who know nothing about siamese cat, they instantly say "oh he looks like a lion!"
Mother and son are doing real great!
Simba puts on weigh very satisfyingly and I don't need to bottle feed him. At birth he weighed 87g and at 8 days he is now 206g!
By the way Simba is a siamese (variant) foreign white :-) It is sooooo exciting!
PICTURES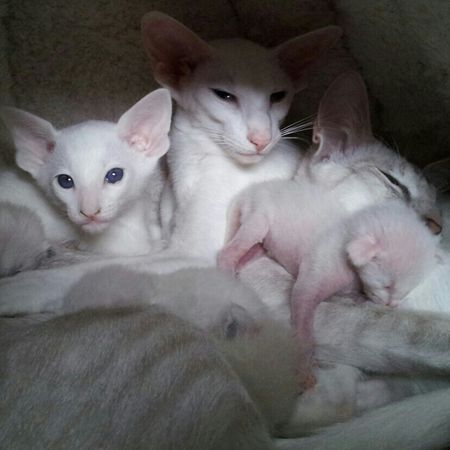 6 weeks old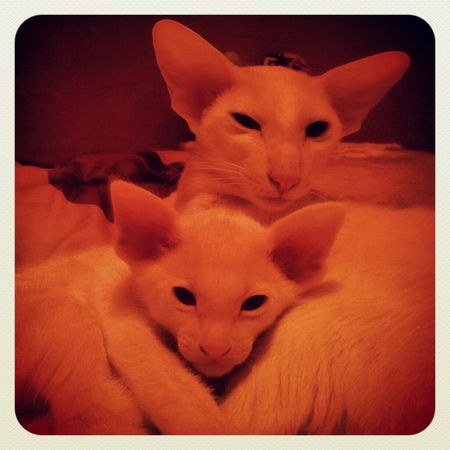 5 weeks old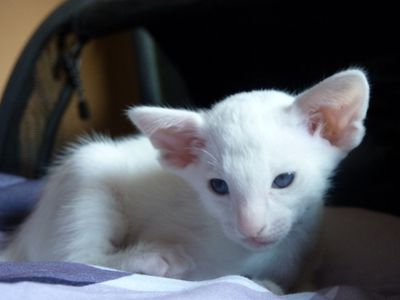 1 month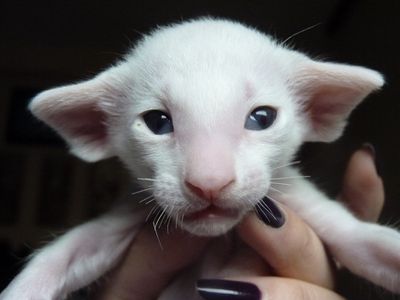 18 days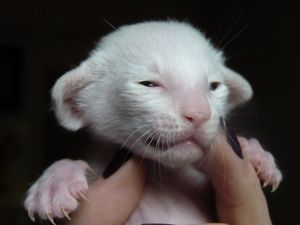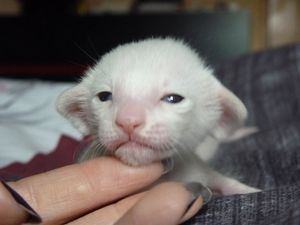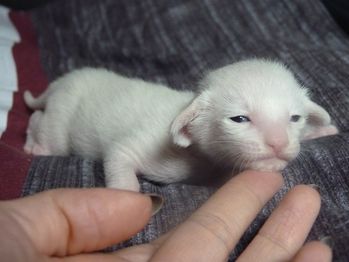 11 days old and 258g!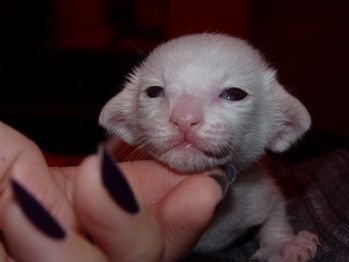 10 days - click on the picture above to see more of Simba at 10 days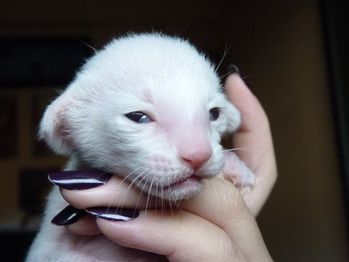 9 days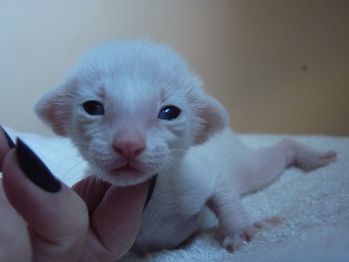 My heart is melting ♥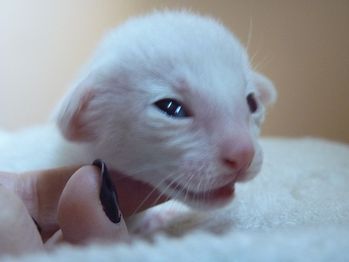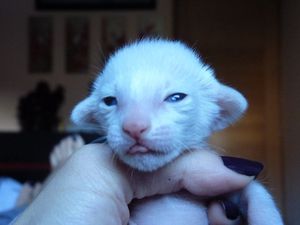 1 week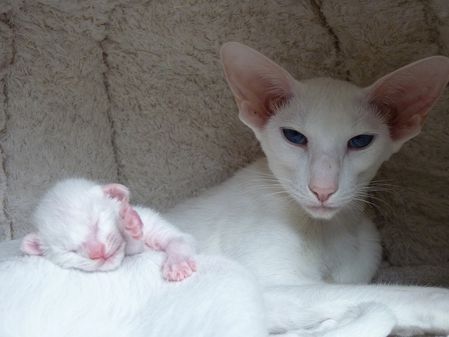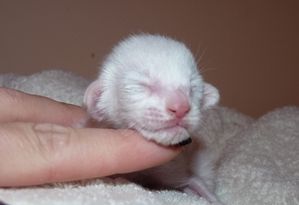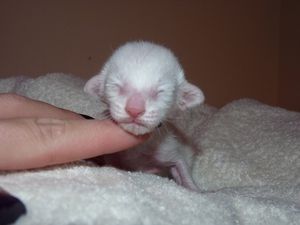 3 days old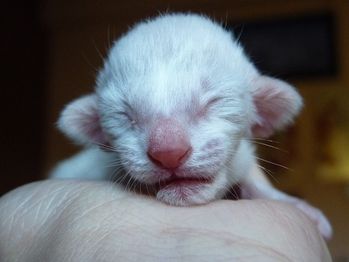 Hello there! I was born last night :-)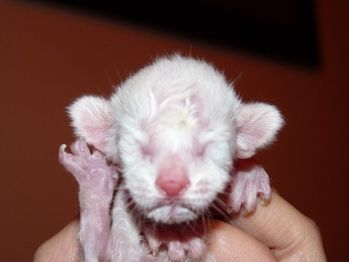 87g at birth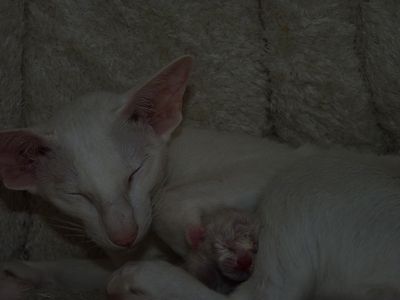 Gabrielle and her newborn baby ♥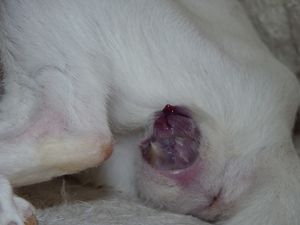 *Ewwwww* yeah I know! ;-) But I personally find birthing beautiful!

I had to take this picture and send it to SuperCoupineCéline I had on the phone as usual when labor started.
Simba was stuck but not for long, uterine contractions together with my help were successful to deliver him!
A new king is born :-)