Indy is a special kitten, Maggy and Jean-Jacques (and me) hoped for her to be born. As her breeder it makes me a kind of surrogate mother :-) Some people would call me nuts but why should I care, really :-D ? I like being so emotionally involved in my cattery, I love to say out loud that I love my cats to bits and even more. Sometimes when I look back it makes me smile because without expecting it I've ended loving my cats more than I had first imagined (true love always happen that way, right? It happens when you expect it the least!) and it still surprises me quite a lot given my past life and childhood.
Indeed I was never close to any pets since I couldn't have any but I don't blame my parents for that, I'm very grateful that they raised us (together with my bro' & sis') the way they did (speaking of which I recently read a book a friend advised me to find, it's called "Battle Hymn of the Tiger Mother" and it's by Amy Chua. It is about how Chinese mothers - I would say "most Asian mothers" - educate their children a way that is very different compared to Westerner mothers. A very funny book about the Asian parenting style that was misunderstood by many people I guess , I think it was more an attempt at humor and self-mockery than a feeling of superiority).
And now my greatest pleasure is to share this passion with other people and to be an 'ambassador' of the wonderful breeds I've come to love SO much!
Maggy & Jean-Jacques are very special to me by all means.
First of all they were the very first people to actually write and adopt two kittens from me.
Then over the years we've become closer and closer as they went on adopting other cats from me and like I wrote in a recent article they're like family to me!

And last Summer when Kama's first litter was born, they told me that they were interested in an ebony kitten, as the LAST member of their crew (meaning it would be the last adoption -- I sometimes tease them by saying they will end having as many cats as I have! They love Vinou a lot and each time they come they want to take him home with them! But this is understandable, you gotta luv this guy;-) ).

So when Kama's ebony boy died I was sad because I knew I was going to keep Woki and that there wouldn't be any kitten for them.
And now there is she: little and sweet Indy Anna! The wanted kitten ;-) And I think she might even be a shorthaired which is funny because Maggy & JJ have a tiny preference for SH: somehow the Universe granted their wish :-) (whereas as a breeder according to my plans I would have hoped for a LH)

Maggy and JJ are so very adorable, as they are already preparing her arrival! They buy new cat things especially for her. I already expect to see a new cat bowl for Indy (there is one for each Musketeer ;-) ). I'm sure the other cats will be happy to meet their youngest sister and that they will be captivated by her black beauty and emerald green eyes! There will then be Five Musketeers, four of which are siameses and the last one an oriental girl!!!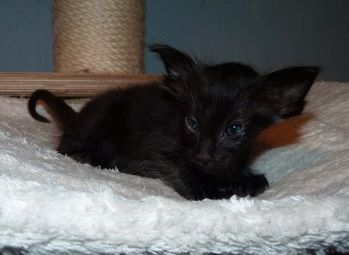 1 month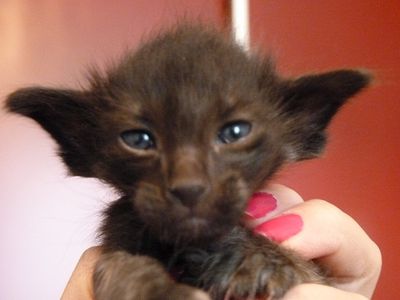 26 days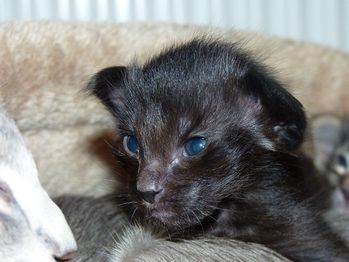 2 weeks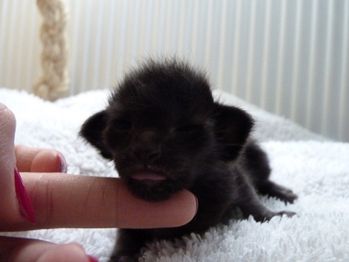 10 days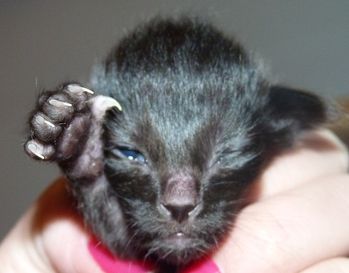 5 days "Hello, World, I'm opening my first eye!"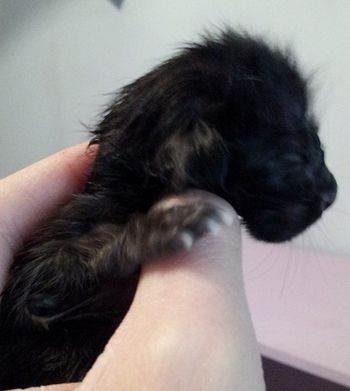 Indy at birth