Kamasutra's first litter - June 15, 2012
Vildbackens Vurdalak x Urrikana's Kamasutra
(Galak, Balinese seal point and Kama, OSH variant blue ticked tabby)
Litter of two born on June 15, 2012, and three weeks before what I was expecting!! Thanks to my stomach, I didn't miss birth..... (because I was hungry at 2 am I went to the kitchen and came across my first OLH baby in the living-room)

Balinesis Heaven's Door, OLH n, female
Unfortunately the little OSH variant boy (a black one too) died at the age of 5 days...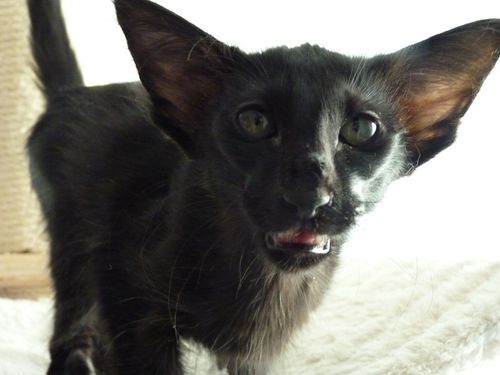 13 weeks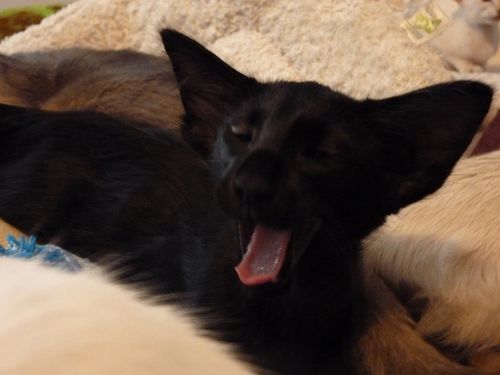 81 days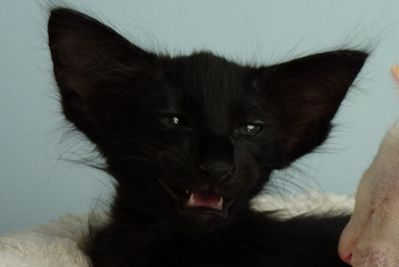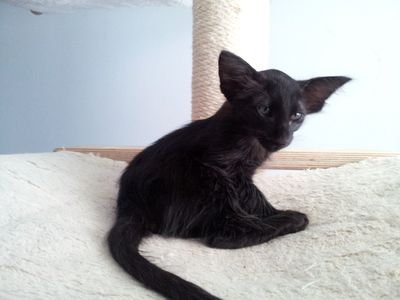 9 weeks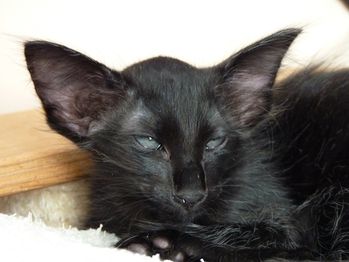 61 days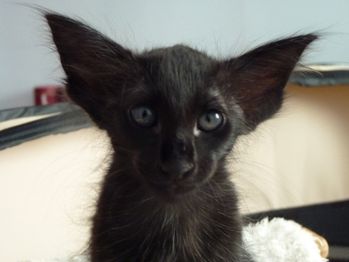 8 weeks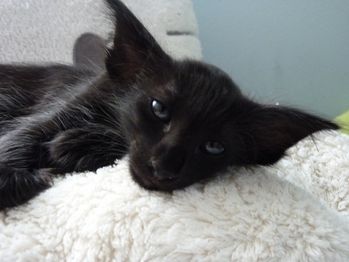 7 weeks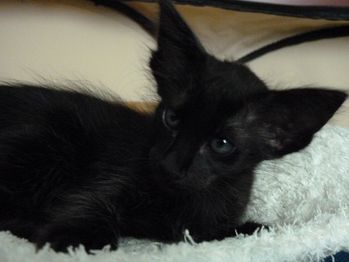 52 days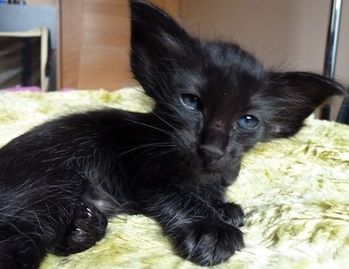 5 weeks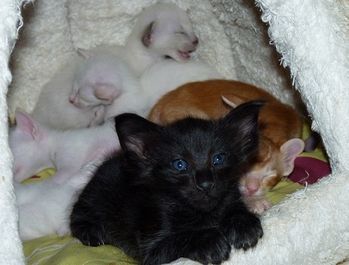 1 month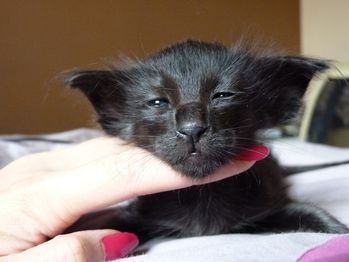 23 days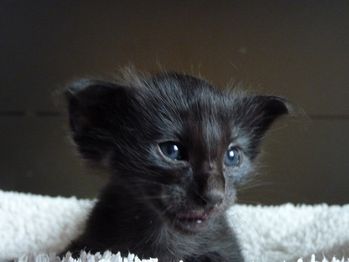 At 20 days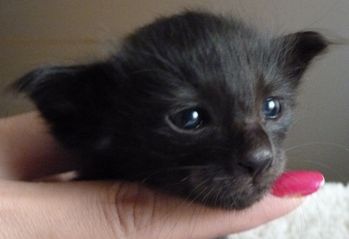 Heaven at 17 days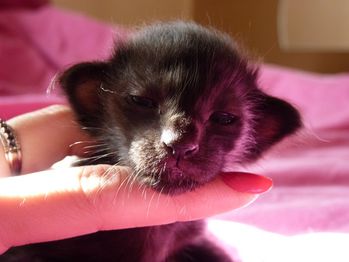 At 12 days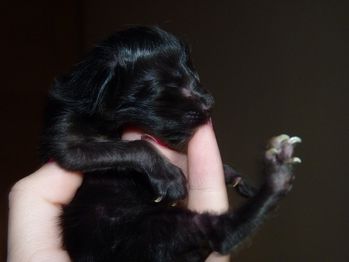 OLH female at 1 day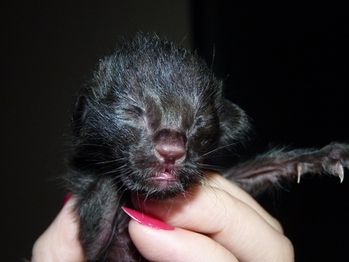 Oriental variant boy at 1 day old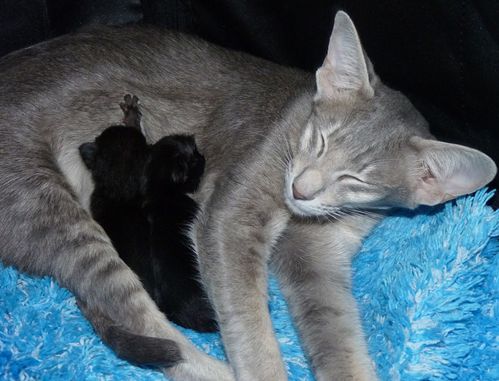 Kama and her newborn babies
The story of Kama's first litter


Kamasutra is quite a small female, not the big and very muscular one, and that makes her look like a forever-baby-girl:-) Since last September I decided to have Eclipse spayed because she was so small and her hormons rates were very low, i.e. she couldn't naturally have babies (I am against giving hormon treatments to my cats unless) I was afraid the same thing would happen again with my OSH variant girl.

Kama lives together with Pomme, Lenka and the boys. Only the mothers and their babies are separated in the nursery room (i.e. Fasty, Kiddy and their litters + Gabrielle because she wanted to stay with her mummy and her granny and I wanted to avoid unplanned mating as long as she was underaged to get pregnant) and in my bedroom.
At first I planned to buy Kama because :
- I like her breeder (Dr. Stéphane Portha, Bruxelles, Belgium -- Urrkina's Cattery) and that it is important for me to breed with nice people :-)
- I wanted to put her to Flint and didn't change my plans even after he died
In 2010/2011 I had plenty of time to travel aroung and go for external matings, which hasn't really been the case since last September. So I figured I would put all my girls to Galak, even if he was originally intented to be Pomme's fiancé. Plans seldom if ever (I'm exaggerating a tiny bit!) go as expected so you always have to come up with a "Plan B" in case something goes wrong...
So for her first litter I reflected I would do a mating with Galak!

Vinou has always gotten on well with his buddy Galak and he was neutered last March. Therefore Galak is the only entire male and he can mate with girls whenever they are calling. Kamasutra is not a very vocal and like any female who lives next to a male, her heat can go unnoticed... Galak mated her around mid-April but then, since he did it again three weeks later, I thought she was on call again and that she didn't get pregnant the first time. That's why it came to me as a surprise when she gave birth to her litter on June 5th, because I wasn't expecting the kittens before another three weeks at least -- and also because Kama is so small that you wouldn't have noticed she was pregnant unless I told you!
Gina arrived here on June 9th, and I tried to put Kama with her so that they would raise their babies together. But Gina was happy to be alone with me in my bedroom so on June 14th, at night, I put Kama back with her friends in the living-room and reflected that I would have time to let her rest calmly away from the other cats later on...

That night I was on the phone quite late and around 1.45am I got hungry so I went to the kitchen to have some toast with Nutella. I was surprised to hear a kitten voice and I was worried Fasty might have opened the door of the nursery and then the door to the living-room (that's a lot of speculations, I agree...) and rushed out of the kitchen to see what was going on. All doors were closed and I could only see Pomme who seemed upset and was going back and forth between me and behind the sofa. I then found a little OLH kitten with its placenta, lying down the cat-tree (luckily not directly on the floor -- the apartment floor is tiled, which means quite "cold"). I took it immediatly, cut the umbilical cord and isolated Kama in the bedroom with me so that I could assist her for the next births. I heated the first kitten with a dryer and put it back to his mother.
I didn't know how many kittens were to be born because I rarely have ultrasounds for my females unless I fear that birth might be complicated. I waited only one hour and the second kitten arrived, it was a lovely variant boy, also a black one! It was very funny for me as Kama gave me my first oriental babies. I've always been used to colorpoint kittens, and siamese and balinese kittens are all white when they are newborn babies while oriental kittens already have their patterns.
The female was 88g at birth and the male was 92g. Kama first had very little milk and the female was growing faster than the boy so I hand-fed him a bit. It was a shock to me when after 5 days he suddenly died. The night before he left, I had a bad feeling about him, and at 5 am after feeding time, I kissed him goodbye because I wasn't sure he could make it until I woke up for good at 7 am... I wish I were wrong but well looks like after 6 litters I have more "experience" and there are some signs that don't lie unfortunately. Nature has its myteries and you can't control everything. As a breeder I can only try and do my best, but I am not a fairy with super magic powers *sighs*.
I chose to name my girl "Heaven's Door" because I wanted something that would remind me of her brother who died way too soon... and also because I like the song originally composed by Bob Dylan covered up by the Guns N' Roses, "Knockin' on Heaven's Door".
During the first two weeks of life I didn't want to name her out of superstition and my B.F. Céline once jokingly said "don't you think she looks like an Ewok (Star Wars) ??". That's how we came up with the idea of her nickname. She's my "Woki-Woki" :-)
Woki/Heaven is doing fine, she has put on weight very regularly since birth (15 grams per day), probably because she's a singleton and she doesn't have to fight with any siblings.
She's one of a kind and I love her very much already, I think she's a keeper ;-) I'm starting to like oriental cats too!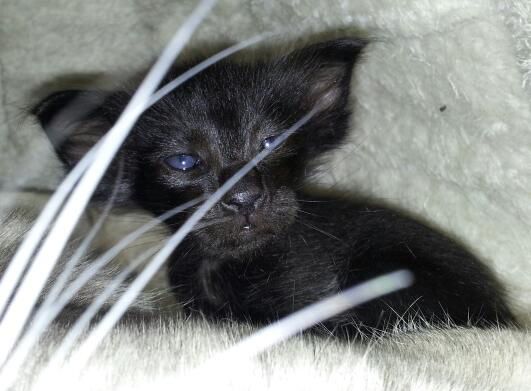 Heaven at 23 days old :-) (with mummy's whiskers!)