Kamasutra's second litter - January 17, 2013
Vildbackens Vurdalak x Urrikana's Kamasutra
(Galak, Balinese seal point and Kama, OSH variant blue ticked tabby)
Litter of two born on January 17, 2013 in the morning

Balinesis Ivy League, OLH n25 (Black SpottedTabby), female (not available at the moment)
Balinesis Indy Anna, OSH/OLH n (Ebony), female (reserved for Maggy & Jean-Jacques)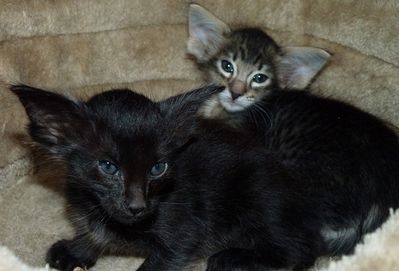 4 weeks and 5 days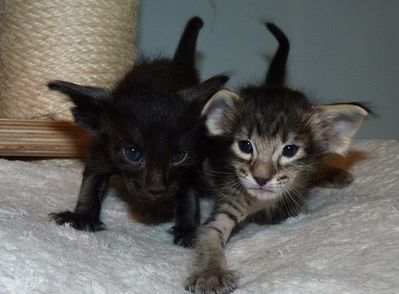 22 days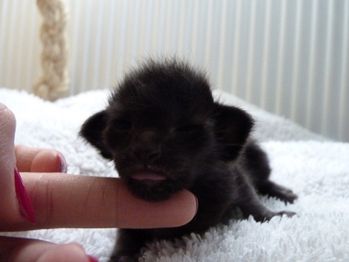 Indy at 10 days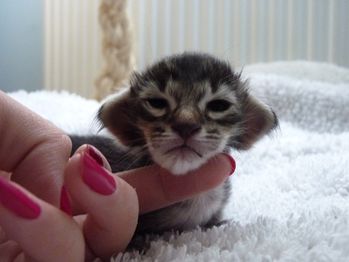 Ivy at 10 days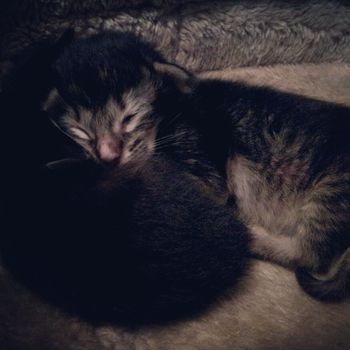 2-day Sleeping Ivy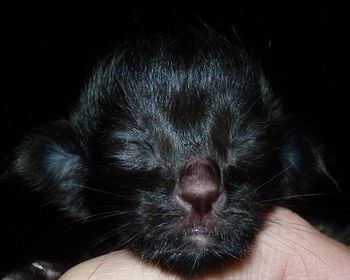 Indy at 1 day old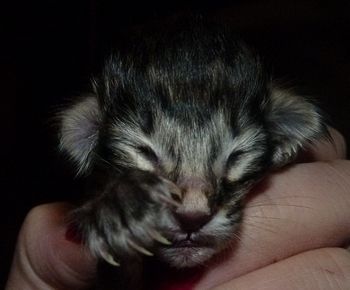 Ivy at 1 day old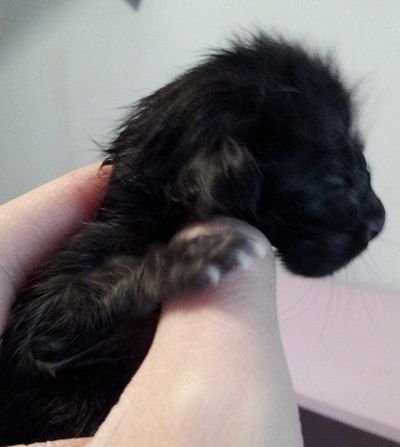 Indy (OLH/OSH?) at birth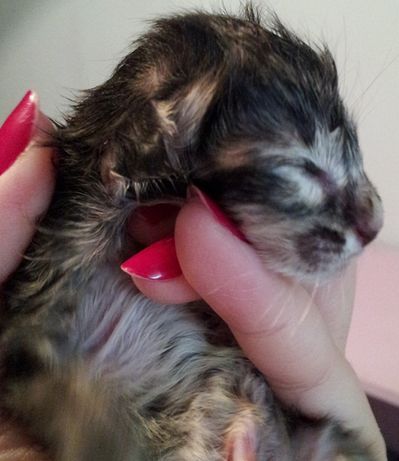 Ivy at birth, 93g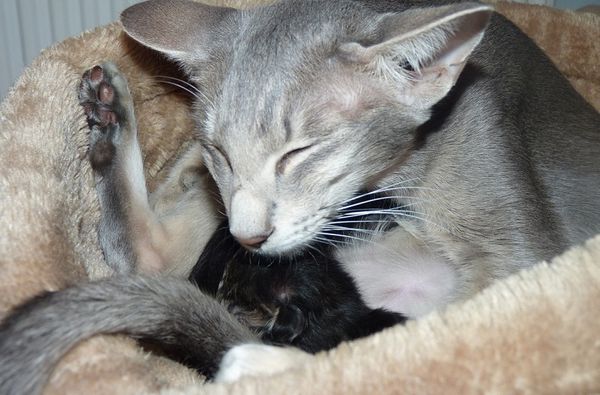 Kama and her newborn babies
The story of Kama's first litter (written on January 22, 2013)


Kamasutra got her first litter 7 months ago, and two lovely kittens were born: Woki (Balinesis Heaven's Door) and a little boy. Both were ebony kittens, but very sadly the male was taken from us when he was only 5 days... Ten days later, Gina Ricci gave birth to her own litter, and as she died when her babies were very young Kamasutra and I took over the maternal duties and raised the orphans

At that time Maggy and JJ who have become real friends over the years (they adopted two kittens from my very first litter) had shown interest in one of the kittens, the one I wouldn't keep (it made sense for me to keep the LH girl as I'm trying to be a LH breeder! so matter how the kittens were going to develop and their future type, I had planned to keep Woki and let her variant brother go to a pet home).
Before Maggy & JJ took in their first siamese babies they were used to cats already but not pedigreed cats. And as time goes by they discover little by little how our breeds are wonderful, and it really makes me laugh to see how they have - just like me - became addicted to them!! They told me they would love to have an ebony oriental to complete their cats team... and that it would be the last member and adoption! Indeed I was joking they would probably end like me, living with maaaany cats when in the first place I only wanted to have two or three of them!

When I repeated the mating I had a special thought for Maggy and JJ of course. Some breeders are also interested in this mating as this pedigree isn't a very common ones on both sides but I must say I usually favour pet homes. I am breeding cats because I am fascinated by the oriental-siamese-balinese cats, and my aim is that our breeds are better known, I don't care about being a successful breeder (meaning winning prizes and cups -- it's pleasant but not the main goal), my best reward is to get good news from my kittens and also when I get mails from people who visit my blog and love my cats!
Kamasutra and Galak spent lots of time together and as they were mating for days if not weeks, I wasn't sure when to expect the kittens, and counted from the first mating day. I began waiting for birthing 10 days ago (last Thursday, January 10) and stayed home all week-end long (I even decided not to go to my grand-dad's 80 birthday party because of that) but nothing happened. On Monday she was calm too, but it was too risky to let her alone so again (cf Kiddy's fourth litter) I skipped my dance lessons (I'm REALLY going to think that my cats see me as a terrible dancer!).
After another few sleepless nights on my side Kama at last decided to start delivery!! Looking at her large belly I had thought she would have more than two kittens (I had thought maybe 4 kittens) but finally there are only two: two lovely girls.

It was a long wait before the kittens finally arrived (day 70 of pregnancy), still I wasn't that much stressed (only tired of waiting) because the first time Kama managed to give naturally birth to her kittens without any help from me. I have had other females for whom deliveries were more problematic, so much so that it was necessary to take them to the vet for C-sections... It's really a relieved to have good queens: queens that are good at giving birth and at raising their babies.
I am glad that I have my first OLH tabby.
Last time I had a plain OLH (Woki).
I think the second kitten is also a LH, I'm not sure. Anyway I know Maggy & JJ don't care about the hairlength! They chose to name the ebony girl Indy, while I chose one for the tabby girl: Ivy League. Maybe it will help her be smart, who knows? :-)

Can't wait to see them grow up! Newborns are very cute, but as a breeder it is much more exciting for me to see the result, i.e. how they look when they are all grown-up!!