Kiddy's fourth litter - December 3th, 2012
Vildbackens Vurdalak (BAL n) X Hello Kiddy of Noah's Ark (SIA var g 21)
I haven't added Galak's ped on Pawpeds yet but here is the ped of the litter http://pawpeds.com/db/?a=p&ids=5:795124;4:868726;3:882821&g=4&p=sia&date=iso&o=ajgrep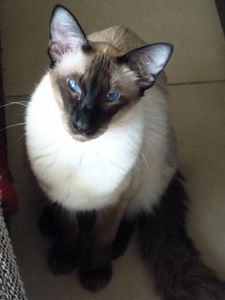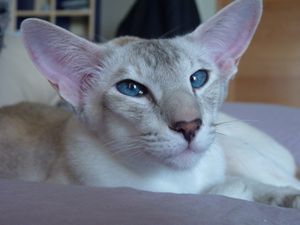 X
dob: December 3rd, 2012 (8.50pm - 11.50pm)
5 kittens (4 boys & 1 girl)
Balinesis Hermès International, balinese seal point (boy), RESERVED
Balinesis High Hopes (aka 'Floyd'), balinese seal point (boy), RESERVED
Balinesis Hudson Hawk, siamese variant seal point (boy)
Balinesis Hadley Cooper, siamese variant red point (boy), RESERVED

Balinesis Hinach Yafa, siamese variant seal tortie (girl), RESERVED

PICTURES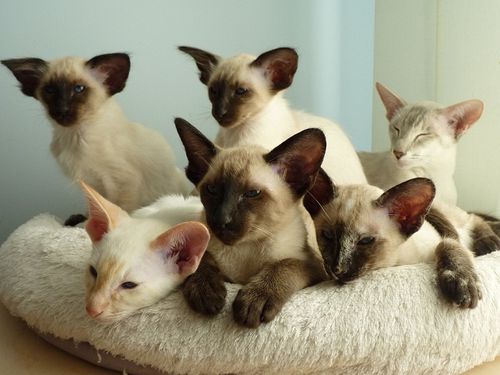 78 days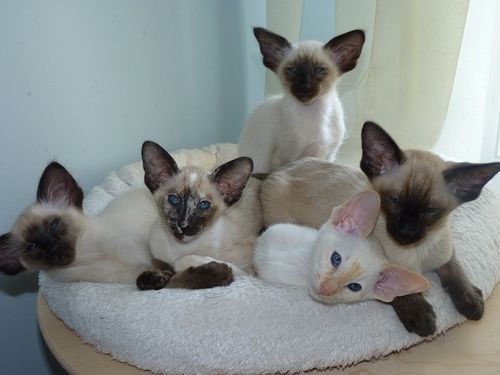 68 days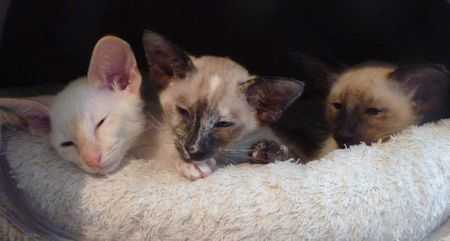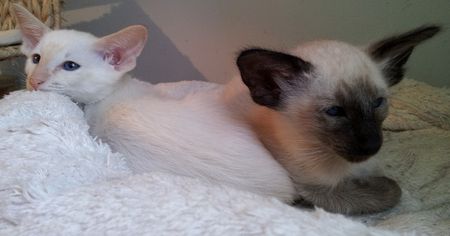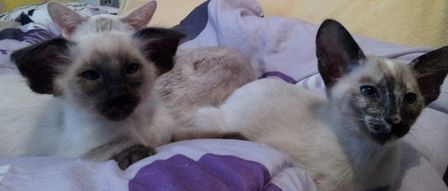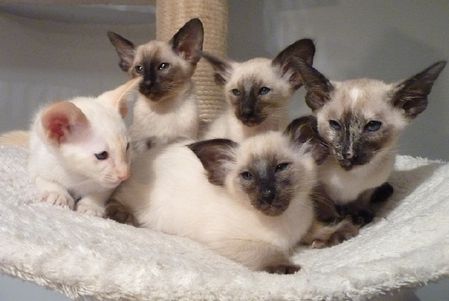 8,5 weeks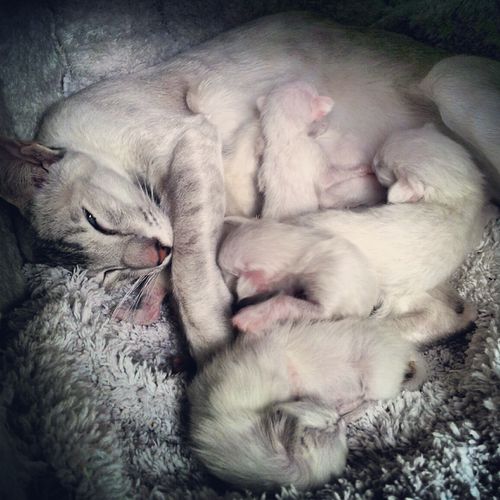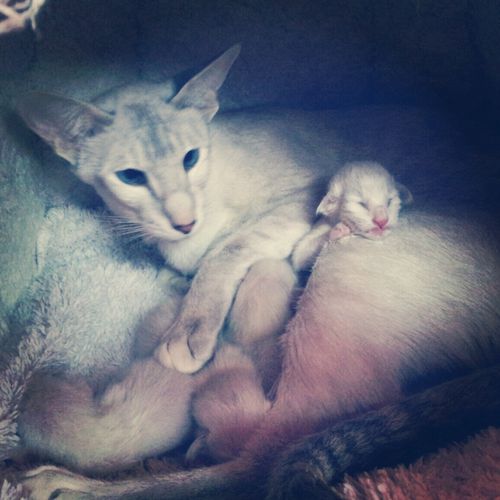 Kiddy and her babies, day 2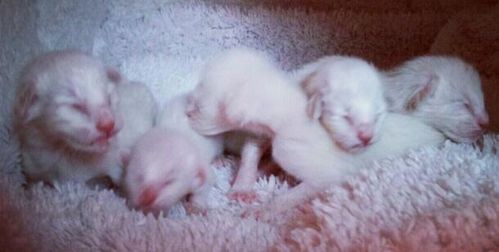 On the second morning after birth
The second kitten from the left is my tiny boy ♥
The story of Kiddy's fourth pregnancy
After Kiddy raised her third litter born last March 24th I wanted to let her rest a bit from motherhood and maternal duties. And yet she decided otherwise and came in heat a few times in a row with barely no pause time between two oestrus cycles. I'm not really into hormones therapies and going against Mother's Nature wishes, what I can do as a breeder is separate girls from boys to avoid unplanned matings which I usually do. But since Kiddy wouldn't stopped calling, that I know she's such a good mother and that I have never encountered problems of any kind with her babies, I ruled against my own "planning" and put her to Galak again... and I must say the boy was more than happy :-)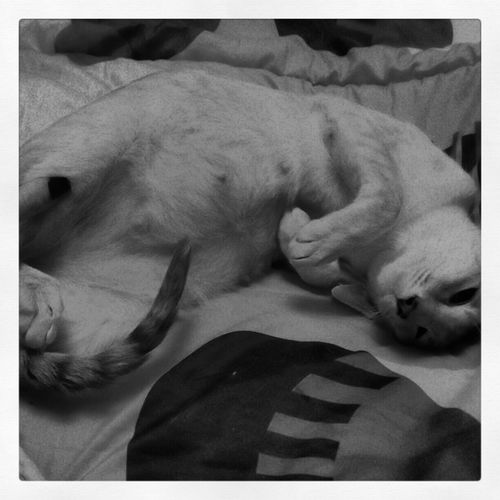 Kiddy on day 63

Kiddy's first three pregnancies lasted 64-65 days but this time something changed and it seemed that the wait was never going to end! Among all my females Kiddy is certainly the one who has the strongest bond with me, she has always waited until I was with her to start labour, and those who already spent some time with us would tell that she and I communicate very well together, we exchange knowing looks at times, and I understand what she wants from me by listening to her different meows :-)
A week before due date I took Kiddy back into the bedroom with me and Gabrielle & Simba. Since then she has been happy to take care of her great-grand-son ;-)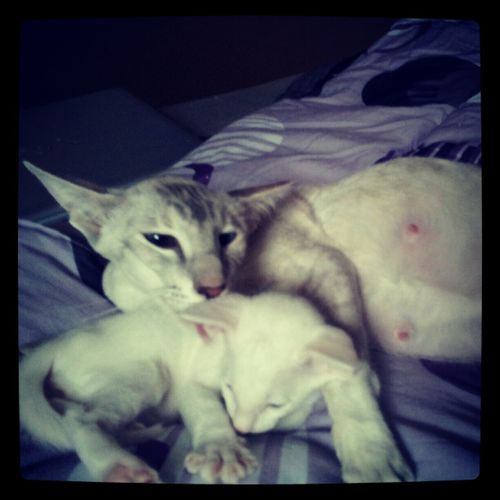 Kiddy & Simba on day 64
I expected birth last Thursday (65 days after the mating) and I stayed home all day long on purpose... but nothing happened. As time was going by I felt I needed to adapt to higher and higer levels of stress! I checked on Kiddy very regularly but still I went about my business and went out during the week-end to meet with someone, only to come back home on Saturday afternoon (to welcome Christine and Robert >> Sunny's departure). Of course when I wasn't home I made sure first that someone would stay with her and call me if there were any signs telling that labour was near (thank you JF you're such a good friend!).

On Sunday night I started to worry and asked some friends for advice (thank you Angelika, Céline, Malin, Pippa) and took Kiddy's temperature because 12-24 hours before birth it falls from ~38.5°C to 37.3°C and normal temperature means that birth can happen within a few hours. On Sunday night Kiddy's temperature was 38.1°C and the morning after it was 37.3°C. It went up to normal again in the afternoon, so again like 5 weeks ago I missed my dance classes, because my cats and pregnant females always come first (I'm starting to think my cats don't like to idea of me dancing!).
Kiddy's water eventually broke after I had dinner (she is so thoughtful to let me eat before birth lol). Right before dinner I was in my bedroom with her, then I told her I would be back soon and between each part of the meal I went to check on her. She made me understand "it" was finally happening when I went to see her before the washing-up (... that I never did that night lol but only the morning after). I instantly started to relax, I had waited so long for that moment to happen!
Contractions began at 8.30pm, the first kitten arrived at 8.51pm (a girl), the second one two minutes later, the third one another fifteen minutes later. The two last ones took their time and were born at 10.43pm and 11.52pm. I waited for a sixth one who never showed... because Kiddy was pregnant with "only" 5 kittens ;-)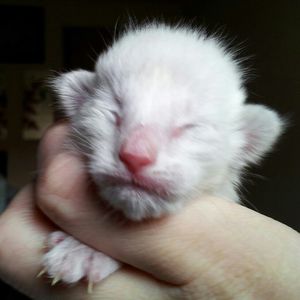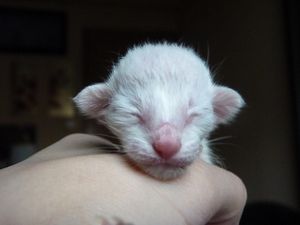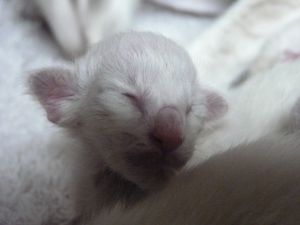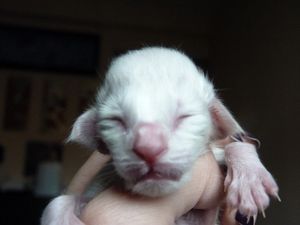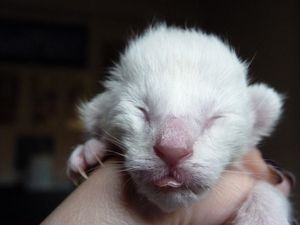 First pic is the only girl (a bali I think) of the litter and then you can see the tiny boy (variant?)

The three last photos are the bali boys (on day 2)
Last time Kiddy was pregnant I asked the Universe for girls, and some of you may remember Kiddy had back then an all girl litter! I always tell those who ask me if I do magic on my cats (sorry I know nothing of voodoo lol) to get what I want that I pray the Universe:) (I do not really believe in a so called "God", I believe in love and energies... in something that is greater than us all, the "Universe"). I believe in the power of positive thinking :-) And this time for Kiddy's fourth litter I prayed for some boys (I was never lucky with Kiddy's boys I kept: Flint died, Vinou has a heart affection...) and sounds like someone heard and granted my wishes! I believe that you get out of life what you put in it, which is why I always try and do things with all my heart.
So there is one girl and four boys ♥
There are two days old tonight, they are all thriving even if the second kitten at birth was a very small one with only 68g (the others were born with better weights: 92-114g)
I bottle feed the tiny kitten and also the other a little bit. But as usual Kiddy is a SuperMom and she produces plenty of milk. The kittens are hale and hearty, it really warms the cockle of my heart!!
Again, Galak & Kiddy did well. Thank you my darlings :-)