Kiddy's third litter - March 24, 2012
Vildbackens Vurdalak (BAL n) X Hello Kiddy of Noah's Ark (SIA var g 21)
I haven't added Galak's ped on Pawpeds yet but here is the ped of the litter http://pawpeds.com/db/?a=p&ids=5:795124;4:868726;3:882821&g=4&p=sia&date=iso&o=ajgrep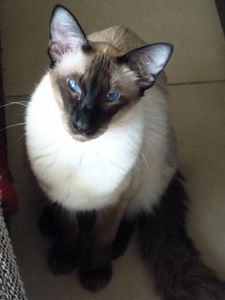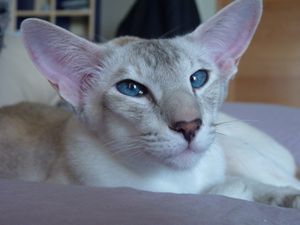 X
dob: March 24, 2012 (2.30am - 6.10am)
5 kittens at birth (1 stillborn, 4 alive)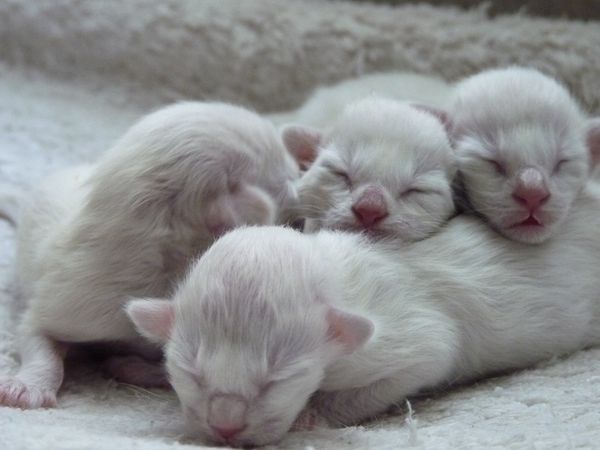 1-day old kittens

To read the article I wrote about this litter >> click here 
To see the kittens album of FB >> click here

To read about Kiddy's pregnancy and her kittens birth please scroll down
Well quite surprisingly Galak for his first litter has only produced girls :-)
Final names shall be:
Balinesis Hedwig van Beethoven, siamese variant seal point
Balinesis Holly Moon, balinese seal point
Balinesis Hayleigh Lujah, balinese seal tortie point
Balinesis Hayden Rose , balinese seal tortie point
>> click on the names to access each kitten's gallery!
You can find the kittens album on FB with more pics >> click here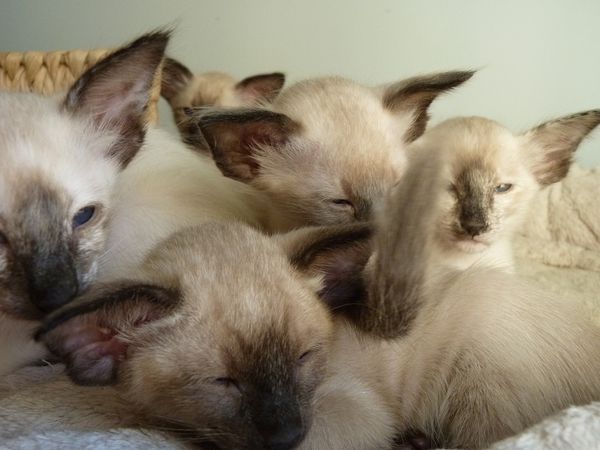 At 52 days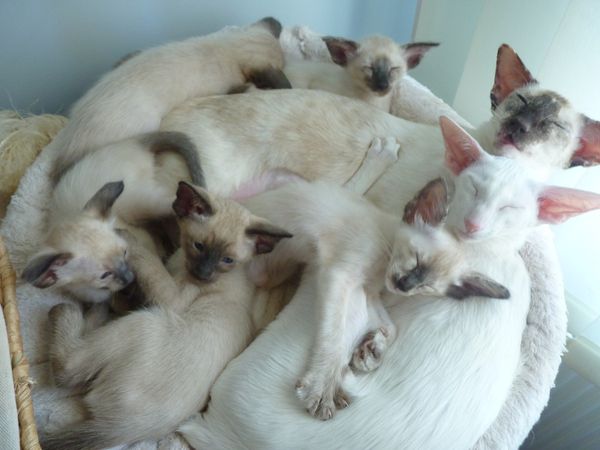 At 51 days, Fasty, Gabrielle and the girls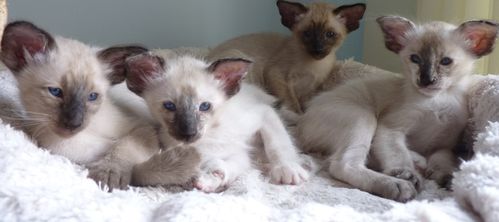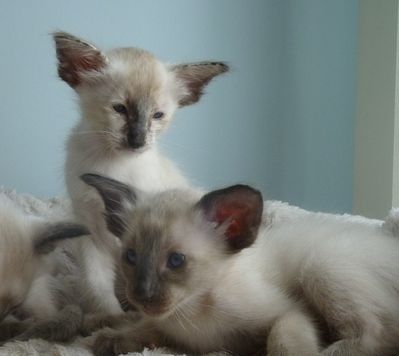 Hayleigh and Holly at 6 weeks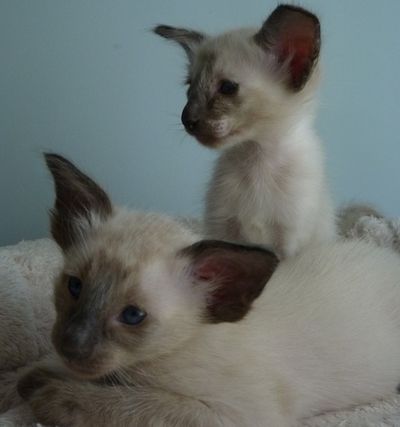 Holly & Hayden, at 6 weeks old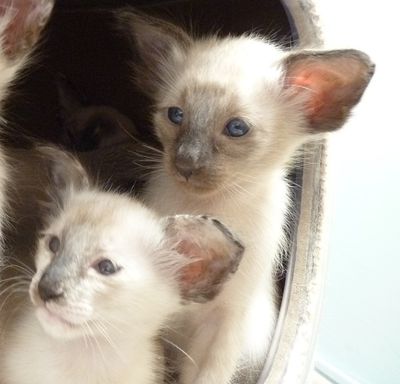 Hayleigh & Holly at 41 days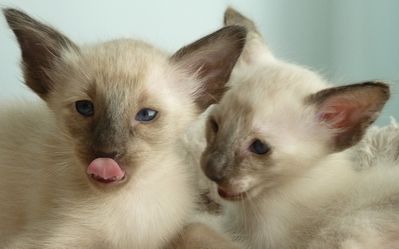 Holly & Hayden, at 40 days old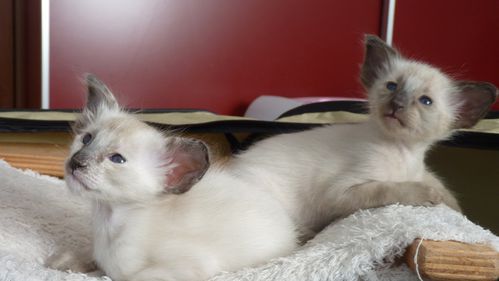 Hayleigh & Holly at 5 weeks old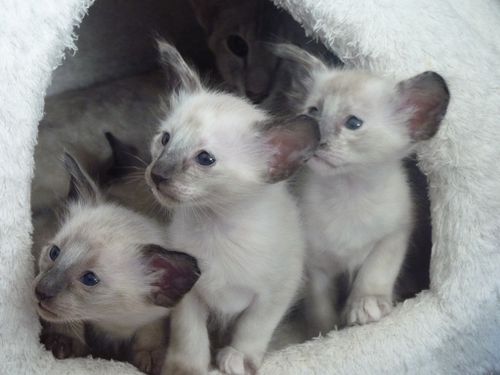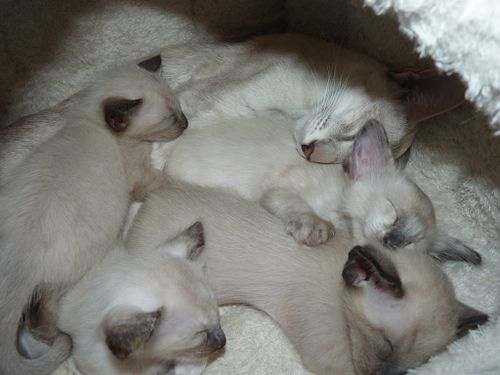 Afternoon nap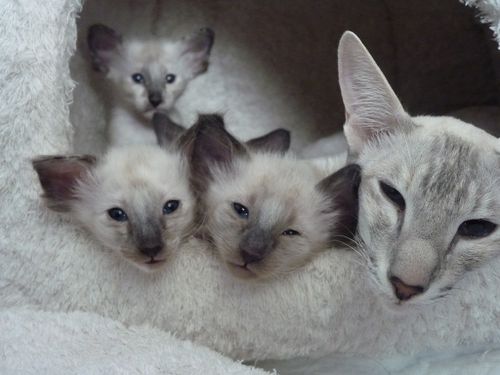 Kiddy and her three bali girls
At 32 days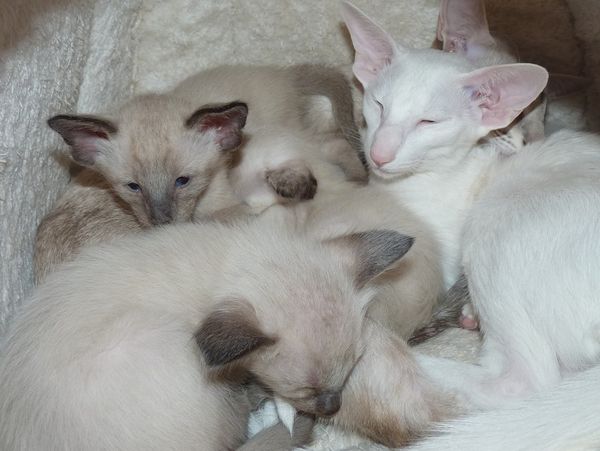 Hedie at 1 month & her "nephew" Gabrielle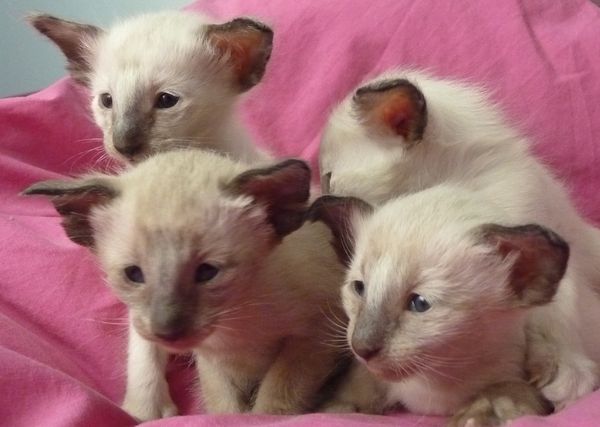 At 29 days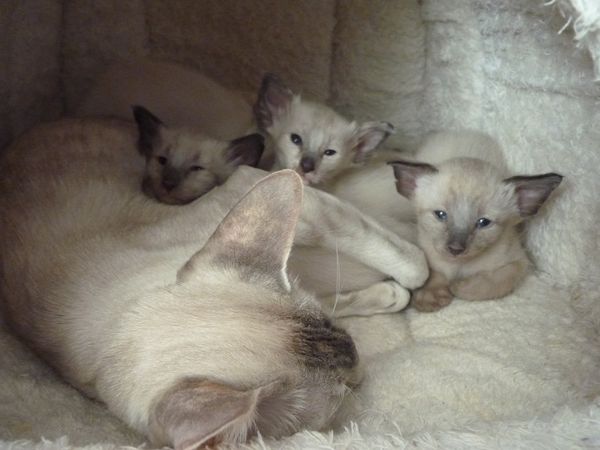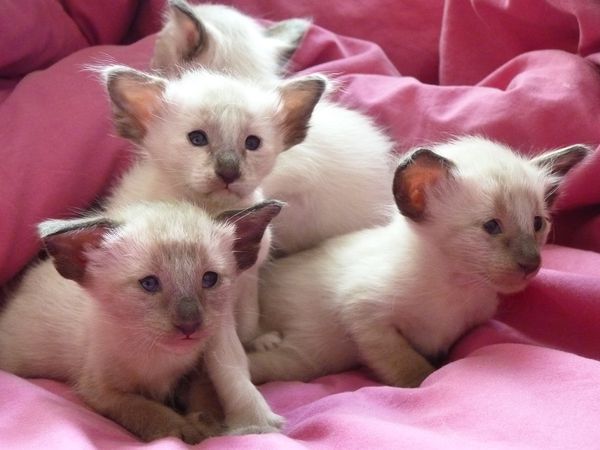 At  4 weeks old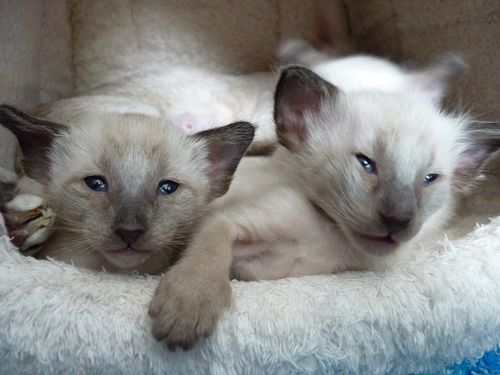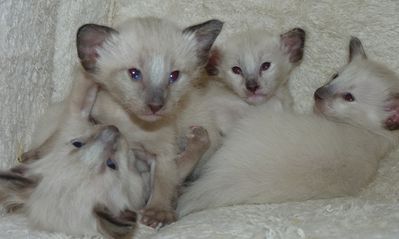 At 22 days (left to right: Holly, Hedie, Hayleigh & Hayden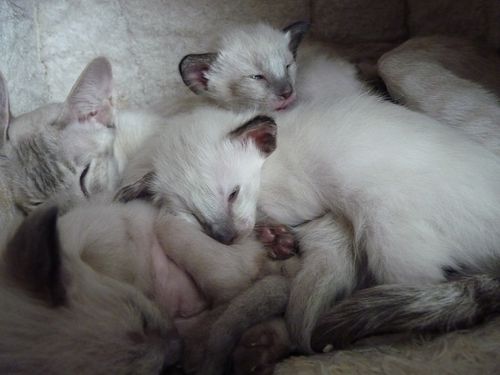 Girls at 3 weeks old ;-)
3 weeks old tomorrow!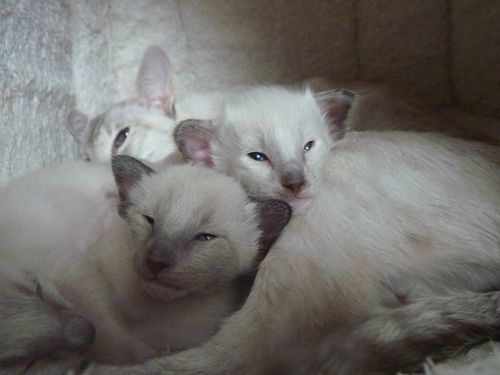 Hedie & Hayleigh at 19 days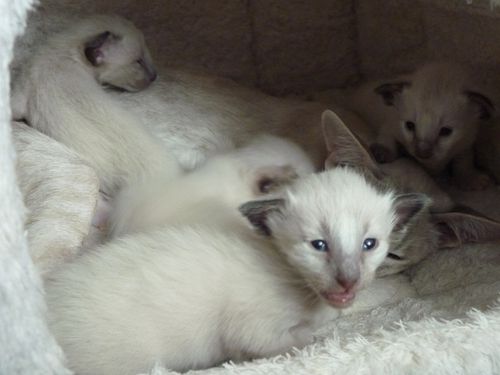 18-day old kittens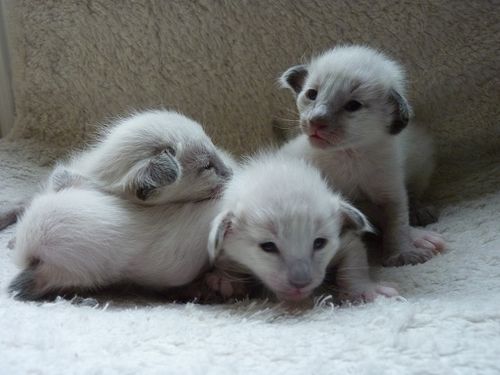 At 2 weeks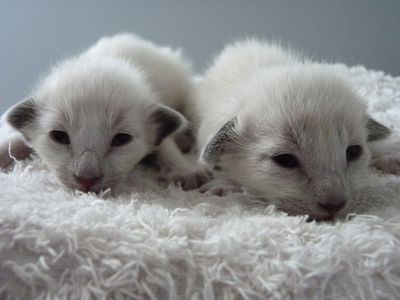 Holly Moon + Hedie (Hedwig v. Beethoven) 11 days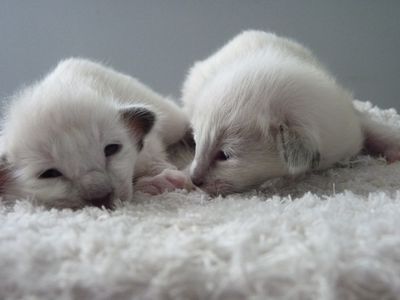 11 days - Hayden Rose + Hayleigh Lujah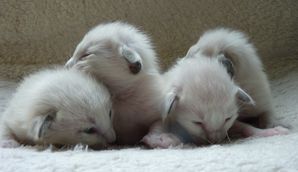 10 days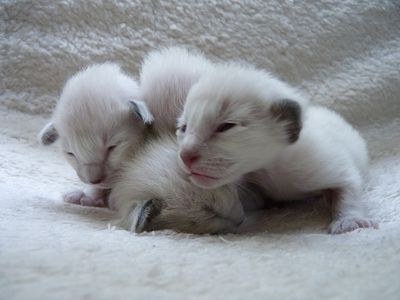 8-day old cuties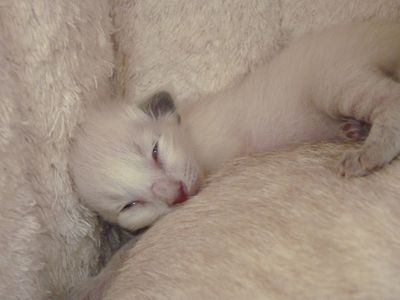 Holly at 1 week old
Eyes open since yesterday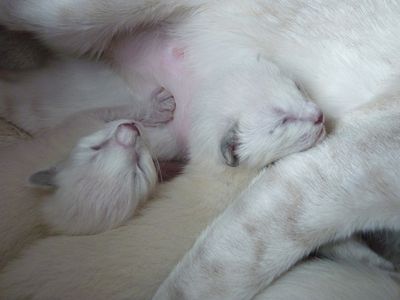 Holly & Hedwig at 5 days
March 28, 2012
 There are only girls!
Kiddy and her 4-day old girls
March 27, 2012
Again Kiddy proves she's great mom: kittens are 3 days old today and they are doing super fine with good weights (131g-143g... no I'm not breeding Maine Coons!). It's the first time I don't need to bottle feed the kittens (="it's the first time I decide not to bottle feed the kittens" --> it was never really necessary but looks like someone had too much time to kill... or that someone was totally paranoid!!), they manage to put on weight very well on their own and with their mother's milk:-)
The temporary names I have chosen are:
Harvey Davidson
Holly Moon
Harry Kasparov

Hayden Rose
But I'm not sure about the genders at all and it looks like I only have females for a change. So I will keep Harry and Harvey's names for a next litter (I will probably have MANY litters in 2012!)
Kittens will have their own page as soon as I am sure of their genders and names... :-)
  ♥♥♥♥♥♥♥
Some thoughts looking back on Kiddy's third pregnancy
(written on March 27, 2012)

Every time I look at Kiddy I realise how lucky I have been to have her as my first breeding queen. I couldn't have found a better female to begin with and such a nice "partner": Kiddy and me are a team like Bonnie & Clyde, Starsky & Hutch, Thelma & Louise...
All beginners who want to breed balinese cats hope (expect) to get a balinese female and also find a nice balinese stud to get straightaway a first litter of balineses.
When I started I quickly understood that choosing a variant girl wasn't a bad idea, especially when this variant girl has a very nice pedigree and a promising type and comes from a cattery whose breeder is a serious person willing to help you start and not only to "sell" you a kitten.

I am very aware that if Kiddy had been a balinese girl, I would never have had the chance to have her... Angelika would certainly have kept her!

Looking back over the past 2-3 years I would say that I've learned a lot from other breeders and also from my own experiences.

I am supposed to be a LH breeder so hopefully 2012 will be the year of my first LH litters :-) For two years I've been raising litters of shorthair siameses and variant siameses and only got one balinese kitten (Flint). 
Before I tell about Kiddy & Galak I wanted to thank Angelika again for having trusted me since the beginning. It always makes me laugh when I remember that she was pretty surprised the first time we met in real after corresponding via mails for a couple of months. In her imagination I was a European and blond girl (why blond?? lol).
Thank you Malin & Jan for Galak. You were always a bit anguished that he wouldn't be "nice enough" for me compared with my other cats but you worried for nothing! I just love him so much and he's a very harmonious boy and I am fond of his size!! He's a BIG boy and he is very healthy... not to mention handsome of course :-) Besides he doesn't fight nor spray which is much more than nice for an entire male.
And thank you "Gertrude" (Céline) for picking up the phone and being there all the time even when it's not about cats ;-) (We're a team too, "Josette & Gertrude" ((((-; !)

I was a bit surprised that Galak was ready when he was only 9 months to mate with girls as usually they say that LH boys start to mate girls a little bit later than SH boys - and the only other LH boy I had before was Flint. And Flint when he was 1 year and 2,5 months was still not mating!
On January 17, 2012 Kiddy had been calling for already a couple of days so I decided I would try and put Galak in the same room as her for a mating... and it just worked! Kiddy is quite an experienced female now - not a virgin- and she knows that when in heat she has to be nice with boys:-)
It reminds me of her first experience with Sokrates two years ago. At that time she wasn't happy at all to be somewhere and with a boy she didn't know. It had taken her a couple of days to get acquainted to this environment and let Sokrates come close to her whereas last year in Budapest it only took her an hour to let Timur mate her!
So last January as she was in her environment with a boy who seemed familiar to her (she didn't know Galak very well as since Gabrielle's birth she had been living with Fasty and Gabrielle apart from the other cats in the nursery) it was too easy for her!
Kiddy is quite a prolific female, she gave birth to seven kittens twice already.
Her third litter was a litter of five which is also great:-)
Kiddy's pregnancy went pretty fast as I had a lot on my mind and was thinking all the time about what to do with Galvin and other stuffs.
Then when she was due in about 2 days I started to be a little bit stressed and tired while I am used to have insomnia - I can't sleep properly at night and there are periods I can only get some rest 2hrs/night without being tired...
So on Friday night (last March 23) I was surprisingly so tired that I went to sleep "early" at 1am asking Kiddy to wait until the next morning to start labor because I needed some rest before, only to be woken half an hour later by a friend who texted me to say he was in a bar having fun. I know I shouldn't sleep with my phone but anyway when deeply sleeping nothing wakes me up (... except the smell of good food :-) !).
Well in brief I slept only one hour that night and at 2.30 I was woken by a kitten crying. I almost fell on the floor when trying in the dark to turn the light on to see what was going on. Hopefully only one kitten was born and he was doing great (he wouldn't have been crying otherwise...).
I usually don't get ultrasounds or X-rays with my females during their pregnancies except with females who have had some issues in the past while giving birth to kittens (Fasty for example) so here I didn't know when labor would end but I was right to guess Kiddy was expecting 5 to 7 kitten.

The 5th kitten arrived at 6a.m. and I then tried to resuscitate him for one hour (which is stupid I know but I do believe in "miracles" and it's hard for me to let a kitten go) and it seemed that it was the last one.
Then at 7a.m. I was sitting there watching ma Tounette (Kiddy) and her kittens before I decided it would be a good idea to sleep a bit. Actually I wasn't tired anymore so I didn't go to bed. I was sad about my kitten's loss and was in the mood for nothing... so I went on a walk and to do my shopping at the market (Saturdays are market days where I live so I go every Saturday to buy some fruits!).

And now for my little story... at 5.40am as I was still waiting for the next birth I decided to send a text one of my student's mom (yes to his mom and not directly to him: as I still don't have a driving licence - shame on me! - students who live more that two blocks away have to come to my place and usually their parents drive them to my place) to ask if I could put back until the next morning the Maths lesson originally planned on Saturday at 10am because I'd rather be in a good shape to teach. When I met them (student + his mom) on Sunday she then confessed that she at first (before reading the text) thought according to the time I texted her that I had been out all night in a night club... It made me laugh because:
1) I would never call off a lesson because of that it's not serious and I'm honest enough to do so when I know I'm not in a good shape

2) I never go to nightclubs - it never was my thing... and yes young people can entertain themselves otherwise than with endless partying nights full of cigarettes, alcoohol and drugs :-)

3) Kitten birth is the only acceptable reason I dare to use... :-) (it's not even an "excuse": I'm a very serious and reliable person ;-) and I love my students!)
Hopefully unlike last year Kiddy chose to give birth on a Friday night (Saturday "morning") which is way better than Sunday night (Monday "morning")!!
Again: Galak and Kiddy you did well mes chéris ♥♥♥ Mommy's very pwoud of you!