Links to other catteries and feline clubs







Friends catteries:
LH Catteries
Belgium
Urrikana, cattery specialized in silver shaded OLH. Kamasutra my blue ticked tabby oriental variant was born there. Thanks to his professional background and his experience Stéphane has substantial knowledge on Genetics and many other topics related to cat breeding and I have learned a lot from him already (Stéphane Portha, Belgium) : OLH & BAL

France
La Baie d'Halong (no website for the moment), cattery where Daïsuki was born (Robert Boesch, France) : Siameses, Orientals, Seychellois & Balineses

Melle Bloom, Delphine is a young breeder just like me, we first met during cat shows and she instantly loved my kitties a lot! Delphine has a small cattery in Gien, near Orléans in France and two hours from Paris. Delphine is a very nice young woman who shares similar views about breeding and I hope that Harry will add to her breeding programme: she's Harry Kasparov's (Fasty's second litter) new mummy, and we wish her a wonderful first litter with her variant girl Griotte as soon as both cats are ready to mate!! (Delphine Lévêque, France): Balineses

Germany
Noah's Ark , cattery Kiddy comes from. Angelika teaches lot of things about breeding, she gives me good advice and we thank her very much for her being here! (Angelika Kneifel, Allemagne) : Balineses & Maine Coons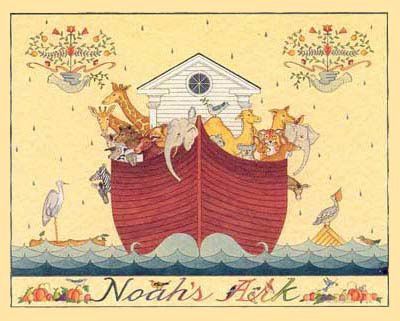 Jademond , Birgit is one of the first balinese breeder from Germany whom we have been in contact with. She has a beautiful foreign white longhair (Dolce) which reminds us a bit of our own Flint Eastwood:) (They both carry lines from the cattery of Blue Moon, Switzerland). We hope to meet her and the Jademond team in the future! (Birgit Kellerman, Germany): Balineses & Siameses

Sweden

Vildbackens , Malin is an adorable breeder that I once contacted because I fell in love with her balinese girl Christine. I love very much her cats, I admire her ambitious breeding programme and her great contribution for the balinese breed. One of our favorite balinese breeder (Malin Almqvist, Sweden) : Balineses & Siameses

(I adopted Galak there last Summer 2011)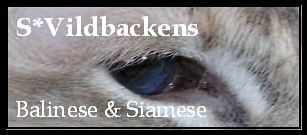 Switzerland
Blue Moon, Cattery we went to with Kiddy to meet Sokrates, a wonderful and beautiful stud who sired our first litter. Also a very famous cattery of Balineses & Foreign whites (well-known balinese lilac-tabby that we adore, Livius). We thank Mirjam a lot for her help and kindness. (Dr Mirjam Kessler, Switzerland): Balineses & Siamese variants


Wales
Pippastro, I guess it is needless to present Pippa and her beautiful cats (Balineses & Oriental Longhairs) if you are experts on our wonderful oriental breeds! Pippa has been breeding for a long time already, and that is for sure, her devotion to the cats and the work she has done so far contributed to better the type of the LH varieties while the temper was always one of her priorities too. Last December 2012 she and I swap kittens: Harvey now lives in Wales while Dragonfly is here with us! (Pippa Browning, Wales): Oriental Longhair, Balinese & Siamese Cats)


* the cat in the banner is UK Imperial Grand Champion Pippastro Hawkmoth, one of the most wonderful balinese boy in the world, who was sadly taken away from his owner Pippa during Summer 2010 when he was 3 years old...
SH Catteries
France
Dreamland's, Céline used to breed balinese cats, before specializing now in SH varieties. That's why I first contacted her (via mails and then telephone), when I was looking for my foundation queen! I am really glad my hobby made me meet Céline who is now my BFPG ;-) Her wonderful Explosion (Comitas) made me madly fall in love with tortie girls! Céline loves her cats and I like to discuss with her for hours long about cats and as we've become veeeeery close (best friends) we have of course loads of other topics of conversation! (Céline Aubin-Mallard, France) : Siameses & Orientals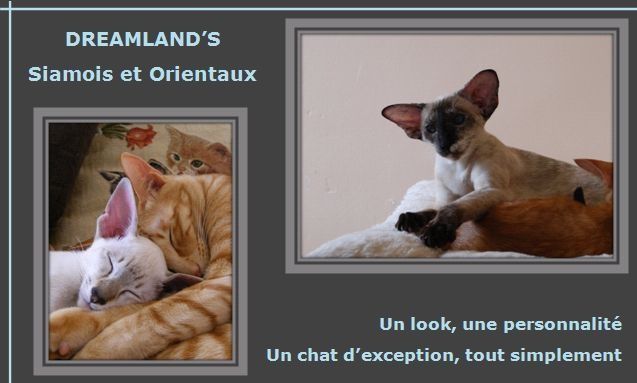 Purrfect, Annette is breeding again with such stunning cats (we love very much her Calenacat's Sweet Sorceress that we met at our first show in Oyonnax) after a four-year break (she moved from Switzerland to France). She is adorable and we are always enthousiastic to go to shows and meet Annette (Annette Chevalley-Pracht: Siameses, Orientals)

Italy
Daisy Chain, Edoardo is a breeder I met once during the WW Show 2010 in St Etienne, France. I like his cats a lot and the way he considers breeding. Sometimes sad events happen and the way we react reveal our values and I look up to those who always choose health over type and respect their cats as living creatures and do not treat them as things they use to shine and outshine others. (Edo & Michela, Italy): Siameses & Orientals

Poland
Divine Madness, Sylwia is a Polish breeder, I first met her during the WW Show 2011 in Poznan (by the way thank you again, I had so much fun -- especially at the Tapas Bar lol) thanks to Céline who introduced me to her. Céline co-ownned Bill with Sylwia (Sylwia is Bill's breeder, he sired Gina's litter) and I'm raising Gina's litter (read more about Gina's story here). Sylwia is one of the biggest fan of my little wonder Vinou! I love her cats very very much, as well as I love her a lot of course!! We mostly keep in touch via emails & Whatsapps to share about breeding and many other subjects :) (Sylwia Stuchlik, Poland) : Siameses & Orientals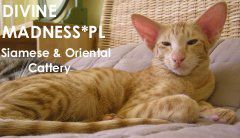 Clubs and associations



Fifé, Fédération Internationale Féline
FFF, Fédération Française Féline (member of Fifé)
SOBJ-Cat, Swiss Club (Siameses, Oriental short and longhairs, Balinese, Seychellois short and longhairs)
If you wish to link my homepage http://www.balinesis.com, you can use my banner here.
If you wish to be linked back, please feel free to contact me.

The cats in my banner are my foundation queen Hello Kiddy of Noah's Ark and a kitten from my first litter, my beloved Balinesis Flint Eastwood, who was my dream cat and the cat of my live. I think his loss was one of the saddest and more painful event I had to go through in my life, and it took me time to grieve. Even today his memory stays alive and I will never forget about him. After his passing it was hard for me to go on with breeding, but everyday I think of him and all my babies that were taken from us away to soon, and my devotion and dedication to our breeds are my way of remembering those I miss so so much, my way of honoring their memories...