Here you will see cats that shared a part of my life in the past. Apart from my very first cat Suki, most of them were (or were meant to be) breeding cats. Some never had litters, though.
DAÏSUKI DE LA BAIE D'HALONG - SIAMESE FOREIGN WHITE (France)
Tezigue Cattus Snow x Tezigue Cattus C'kimilili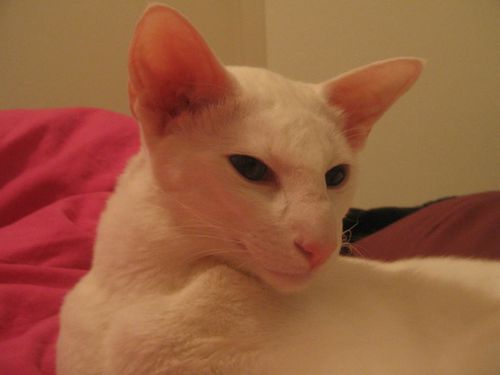 Suki was my very first cat, he never took part to any breeding programme and stayed with me a neuter. He's the one who made me fall in love with the siamese & balinese cats. He has been very very... very special to me and always will be. I had him rehomed because he felt unhappy with so many changes here at the cattery. He lives very close to us with two kittens from our first litter, so he's with family, and Maggy & Jean-Jacques do take excellent care of this little team! Many thanks to them.
** Suki, Kiddy and I miss you a lot forever! **
(to read about his departure, click here)
*****

CAMELOT FANTASY ECLIPSE - BALINESE SEAL TABBY POINT (Argentina)

Camelot Fantasy Andres x Damaris Camelot of Chrysanthe
Eclipse sadly couldn't have any babies
She was neutered and rehomed before I could have a litter with her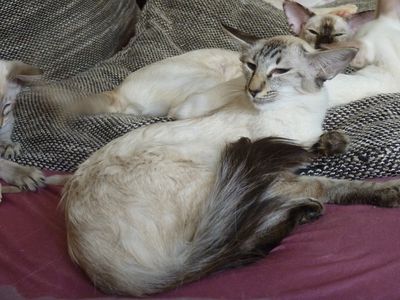 BALINESIS FAST AND FURIOUS ("FASTY") - SIAMESE VARIANT CHOCOLATE TORTIE POINT

Sokrates Von Tamangur x Hello Kiddy Of Noah's Ark
Fasty went through three pregnancies, sadly we got no babies the first time (there was only one but he died before the C-section)
- to read about her first babies, click here
- to read about her third and last litter, click here
I kept two girls out of Fasty, Gabrielle and Hope (and Harvey, but he is soon to live...)
Fasty was spayed after her second C-section and left us (July 2012). She now lives with Hayleigh Lujah (renamed Osannah) with Marie, Régis & Sarah!
BALINESIS GALENKA ("LENKA") - SIAMESE VARIANT SEAL TABBY POINT
Avalon Pendragon of Noah's Ark x Exquisite Taste Un Prince à Paris
Galenka didn't have any litter here, I have decided to neuter her last June 2012. All went fine and Lenka will soon join Isabelle (JF's big sister -- this is my birthday present to her :-) ) who recently adopted a female cat named Lola. They will keep each other company and I hope they all will be happy together :-) We will miss her a lot, actually I already miss her!! Lenka leaves end of August 2012.

BALINESIS GOLDEN APPLE ("POMME") - SIAMESE VARIANT LILAC TORTIE POINT
Okonor Timur x Hello Kiddy Of Noah's Ark
Pomme is Vinou's and Gina's sister. I had first planned to have a litter with her and Galak but sometimes plans change. Pomme was neutered on August 21, 2012 and she left on November 24th with Hellie, to their new family (Lucie, her boyfriends & the kids). She lives in France, 30 minutes from my place:)