Show in Vincennes (Paris, French Championship) - Oct. 16-17, 2010
I will add more pictures and details soon about this show!
Fifé Show in Paris
Fast and Furious, Friday and Flint attended their second show in Paris with their mother Kiddy last week-end (October 16-17, 2010)

They all went back with great results !
I am very happy and proud of my little babies and of course of Kiddy who hadn't been showed since her pregnancy!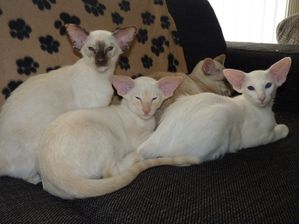 Kiddy and her kittens, early Oct. 2010 (almost 4 months)

Results:
Balinesis Flint Eastwood: Ex. 1 + nominated + Best in Show (both days!!)
Balinesis Fast and Furious: Ex. 1 (both days - lost nomination to a very nice seal tortie point girl)
Balinesis Friday Night Fever: Ex. 1 - nominated (both day) - lost the BIS to Flint :)))))
Kiddy: last CAB + First CACIB - nominated and BIS on Saturday
I am very proud that a little balinese won against all the other SH kittens (there was even a OLH kitten). This show was exciting with more than 50 cats belonging to Group IV!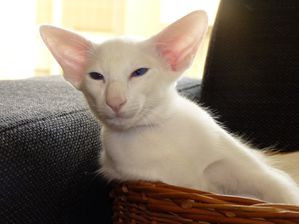 Balinesis Flint Eastwood, 4 months old
* Next Show, in St Etienne (World Winner Show)!