The "making of" Kiddy's first litter
After having been judged on her last show (Yverdon-Les-Bains) and so told that she could be a Queen, Kiddy only waited two weeks and was in heat again on Sunday, April 4th.
A few days before, she already started to have this typical behavior that warns "I'm gonna be in heat veeeeeery soon" , and thanks to Daïsuki, it wasn't hard to notice when she began to call: he heard and was very interested! It's very convenient to have a neutered male at home, it's like an alarm clock that tells breeders when a girl is "open" to meet studs...
We didn't wait long to call Mirjam (Dr. Kessler, cattery of Blue Moon) with whom we already agreed that we would mate our two cats when Kiddy is ready. That's how, on a Sunday afternoon, we took Kiddy with us in the car on a trip to Switzerland... A couple of hours later, we arrived safely and a little excited... THE moment had come!
Mirjam welcomed us with her husband, their two little boys and her cats: a pretty cute family :)
We saw Livius, a very beautiful and well-known lilac-tabby point bali boy, Panakeia and her two-months aged babies ... and obivously Sokrates!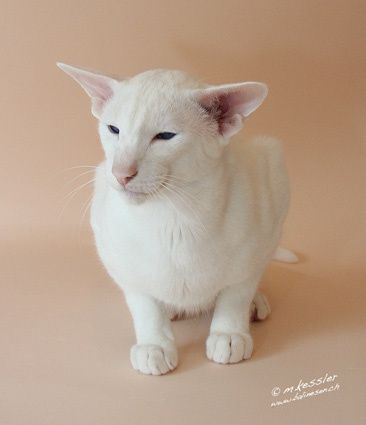 picture courtesy of Dr. Mirjam Kessler


Sokrates is a siamese variant foreign white that we first met at St Gallen during the World Show last year. At that time, we already noticed how charming he was. He is a big boy with a long body and beautiful deep blue eyes and well-set ears... a dream cat! We like big cats, they look more elegant to us. What's more, Sokrates is a very sweet cat.
He's a little younger than our Daisuki (one month or so) and he was a little shy at first - indeed he was still a young stud when he met Kiddy (before her, he mated Panakeia, whose babies we saw), and she was SO angry to be in some place she didn't know that it wasn't easy for him to approach. Everyone know how females are when they are in heat AND angry! Sokrates didn't get a chance to come near her.
If that's normal during the first hours, or let's say, the first day, we worried a little when Mirjam told us that Kiddy was stil angry two days later and didn't seem to be in heat anymore.

That's how, a week later (on Saturday), when we came to pick her up and go back home, we were a little sad and disappointed because the mating hadn't work. Mirjam was very kind to us and we tried together to figure out some solutions.
That day, there was a new cat we didn't see the week before: Twilight, who made a long trip from Argentina (Camelot Fantasy) through Germany to finally arrive at the Cattery of Blue Moon. We were surprised to see how fast she already got used to her new home and buddies :)
I thanked Mirjam for her welcome and then came back home with Kiddy, wondering what we would do if she was really NOT pregnant...

It is hard to find a stud at the beginning, but we would like to thank all breeders (especially from Germany!) with whom we discussed and who agreed to let us use their stud, even if we finally didn't go this time... since Kiddy was already pregnant! We will probably go to Germany in the future, it's only the beginning of a looooong breeding story :)
Two weeks later, we were happy and very surprised to see that Kiddy had pinked up! It meant that the mating had worked! Sokrates is a secret lover:) He was so discreet with Kiddy that nobody could hear or notice anything going on between those two!
We waited until around 50 days of pregnancy to bring Kiddy to the vet and do an echography and some X-rays. The vet told us she was carrying 6 babies, which is a lot for a first litter :)
We prepared everything at home to welcome the babies and waited for them very eagerly!
To read about the D-Day, click here