Vildbacken's Vurdalak ("Galak")
(PRA-negative)
dob: April 21, 2011 in Sweden
breeders: Malin & Jan Almqvist

Sire: S*Mjia's Cameleon (SIA var b)
Dame: Vildbacken's Corvette ("Nellie") ( SIA var f21)
He was born at Vildbacken's cattery in Sweden, near Boras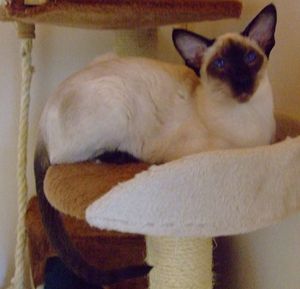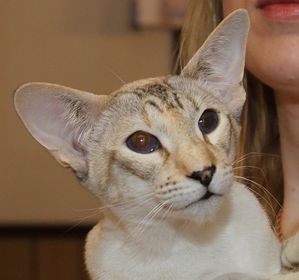 Cameleon & Nellie
Galak's parents
No external studservice
March 31, 2012
I first contacted Malin in August 2010. At that time I was raising my first litter and as I had decided to keep Flint I was looking for a nice female for him. Looking on the Internet I came across Malin's website and wrote her an email. She was going on holiday for one week so she got back in touch when she went back. We've had a nice contact from the start, and Malin even offered to help me find a female as she didn't have any kitten available for me herself (she had plans later in the year but I was quite in a rush as I didn't want that Flint grew up to an entire male without having a fiancée - back then I didn't know he wouldn't be sexually mature very soon!), which was very kind of her! Finally I found a female on my own (Eclipse - but she couldn't have babies, I rehomed her).

Then last year looking at Malin's new litters I totally fell in love with Nomadic, a variant kitten (Cameleon x Christine, Christine is another Nellie's daughter, and of the best balinese female I've ever seen! you can see her on Malin's webpage >> click here). But as I already had so many variant girls at that time it was better for me to find a nice bali boy rather than a variant. I waited until Malin's next litter and Vurdalak was born not long after, almost a year ago now (April 21, 2011).
Nellie already had many beautiful litters so I was quite excited to see her forthcoming one with Cameleon as he had given beautiful kittens with Christine!

I am lucky I have got Galak because he was the only balinese kitten in the litter and I wasn't the only breeder interested! Hopefully for me the other breeder chose to take a girl in that litter so I could book Galak. I was very happy that he was a seal point (I never had a seal point before and as I already have many tabbies I wanted a solid kitten for a change).
Galak has many qualities. And I could follow quite well his development thanks to Malin who was kind enough to send me pictures every week and who even took some videos for me. I'm quite a bother when I book a kitten because I ask for pictures like everyday!! :-)
Well he has a perfect profile with a nice top and round top of head. His ears are quite large and well-set on the head. His eyes are of a vivid and deep blue colour and they have a nice shape too. Galak is a seal point boy so his body could be quite dark now that he's all grown-up but I must say he has not lost his amazing contrast! The points are very well-developed and his coat is wonderful... just like Flint's coat was: silky, close-lying, soft.

And something I really LOVE about Galak is his size! When he arrived last August 2011 he was already bigger than Kiddy's kittens (from her second litter) who were however a little bit older than him (6 weeks). He soon looked like an adult cat and he's still very big. I prefer big cats to small cats of course (even if they are heavier for my poor arms lol - I should exercise a little bit more... actually I already do when I go shopping and walk back home with two packs of bottled water lol!) because they look healthier to me. Well big = healthy. Same for me. I usually have problems putting on weight but since the beginning of this year I have managed to gain 3 kg and keep them :-))) (yes mom if you are reading these lines I bet you'll be looking forward to seeing me again!)
I've been breeding for now only (almost) two years (I bought my first breeding cats three years ago: that was Kiddy - I had my first litter with her on June 11, 2010 and so far I've had 5 litters) and I must say it was a very good start as the litter was a stunning one, especially for a variant/balinese litter! Parents deserved all the credit for this litter, and of course there was something about beginner's luck... and also a little bit me: I came up with the idea of mating my Kiddy to Sokrates, which was a nice outcross ;-)
So since my cats are quite nice (and make me proud!) Malin at first feared that Galak wouldn't be "enough typy" for me which is totally wrong!!! I love my Swedish boy because he brings in many qualities that my own cats don't have (a perfect profile, a perfect size, the longhair coat, etc.). And I guess he loves me very much too, he's the only cat to come and sit on my lap when I play the piano.

Anyway when breeding what's exciting is to have a nice breeding programme so as to improve the type of our first cats. It wouldn't have been fun if from the start I already have had top-show cats, it wouldn't have been challenging at all...
So maybe that Galak isn't as typy as my other cats (but I'm not the one saying so, I'm really happy with him and I find him beautiful!) but I'm sure he'll sire beautiful litters here with my girls :-)
By the way I gave Vurdalak a nickname because I always call my cats with a short nickname (then why do I give them double names? because I prefer the first names to be longer than the "last name" i.e. my cattery name "Balinesis" and also because I always have lots of fun finding names;-)!). And why Galak? Because he was born in 2011 (in France all pedigreed kittens born this year had to have a name beginning with the letter G) and that I found convenient to give him a G-name to remember easily later how old he is! And Galak also because I love chocolate of course :-) (I love food in general except veggies -- the only veggie I like is the eggplant, don't ask me why, it's just delicious. I even know how to say eggplant in Hungarian as Lazslo has named one of his cat "Padlizsan" and I do remember going to the supermarket with him and reading the notice under the eggplant. LOL)

So thank you again Malin & Jan for trusting me with this nice boy and thank you for your warm welcome at your place. Sadly Malin was away from home for professional reasons when I came (it was a last minute planned trip) so I hope we can meet very soon!!
(Page written and last modified on March 31, 2012)

Galak has got his first kitten with Kiddy >> click here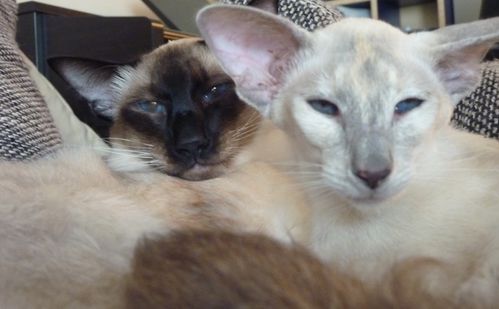 Here with Pomme (Balinesis Golden Apple), 11 months old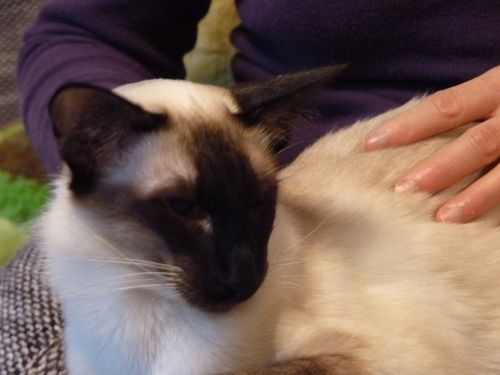 Christmas 2011
8 months old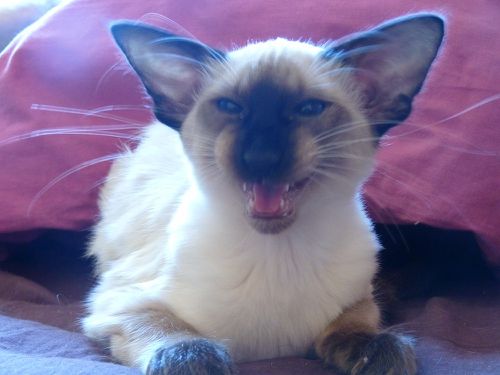 Firt pic at home - "Beware I'm very daaangerous!"
4 months old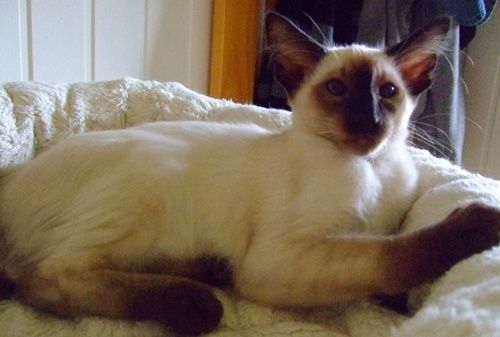 13 weeks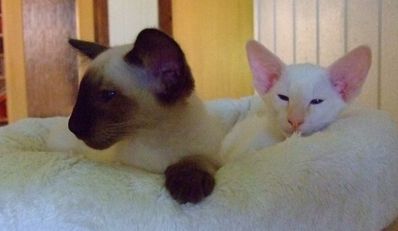 11 weeks with his brother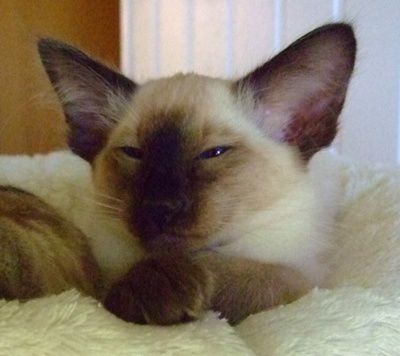 10 weeks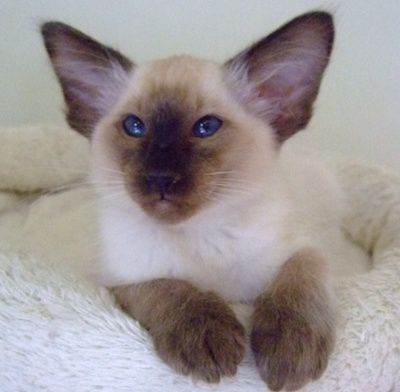 9 weeks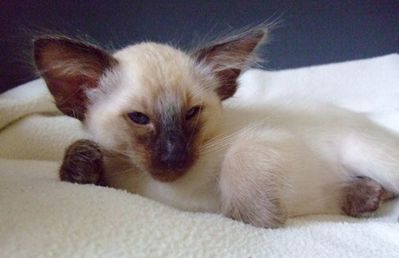 8 weeks and so very lovely!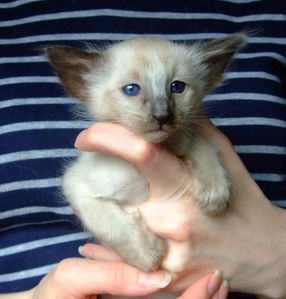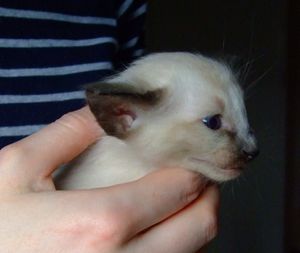 5 weeks an already such a nice profile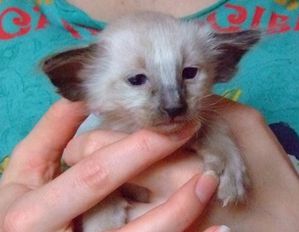 4 weeks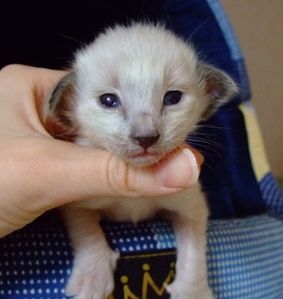 2 weeks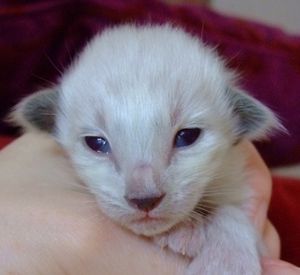 9 days