YEARS 2009 - 2010
YEAR 2009

Spring 2009 - I moved from Paris to Thonon-Les-Bains with my boyfriend right after I adopted my first cat, Suki, in March 2009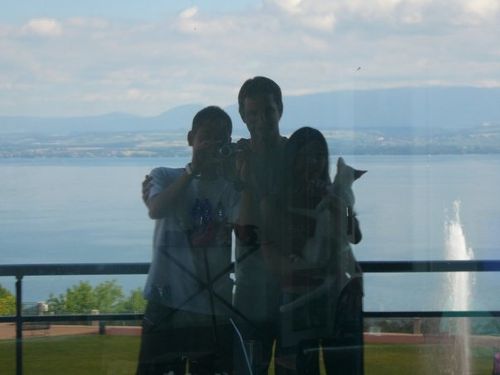 Pic taken from our balcony -- August 2009, in Thonon-les-Bains
My brother, JF & me with my first cat Suki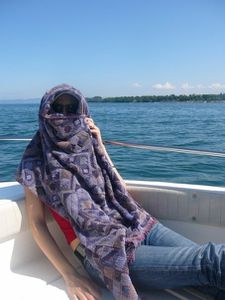 I hate suntanning...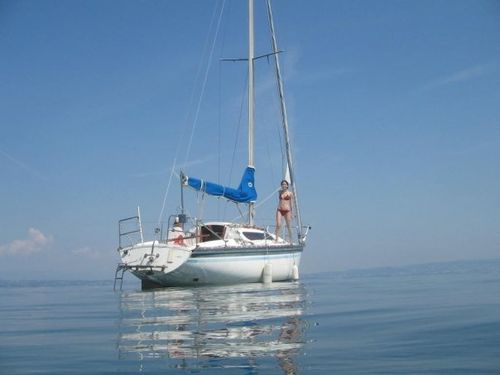 ... but love swimming! I was about to jump in the water :-)
August 2009: Suki has a new friend... Kiddy, my soon-to-be foundation queen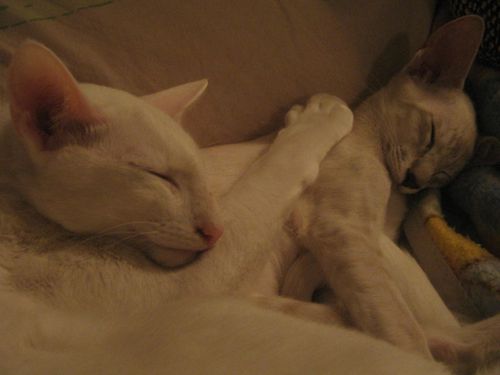 Daisuki & Kiddy, my two first cats taking a nap together ♥
Sept. 2009, in Thonon-Les-Bains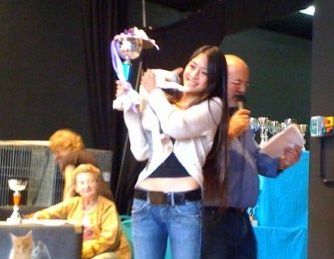 A new adventure: Fifé show in Les Houches (Sept. 2009), France
Kiddy won BIS on her first day in show!
YEAR 2010
June 2010: My first litter is born!!!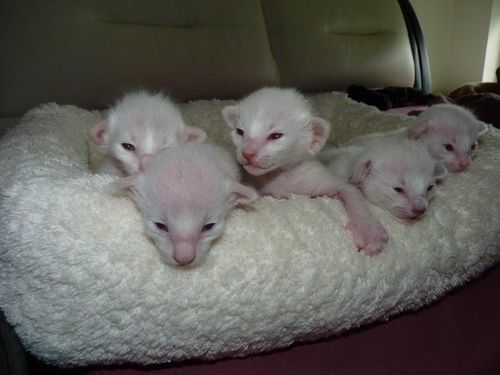 Kittens ~ 2 weeks old kittens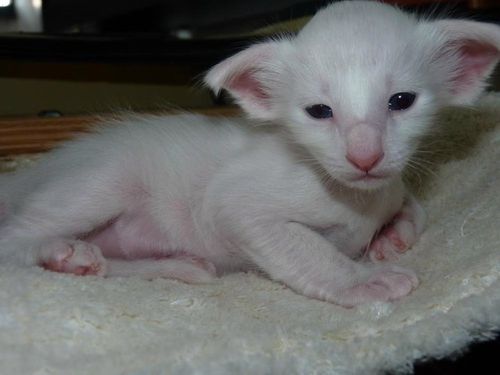 Flint Eastwood at 3,5 weeks old
We called him "Papy" because his being hairy and all white made him look like an elderly :-)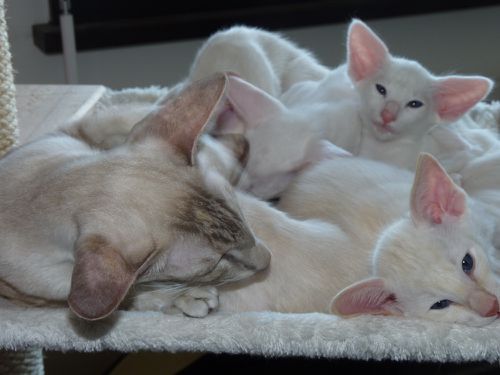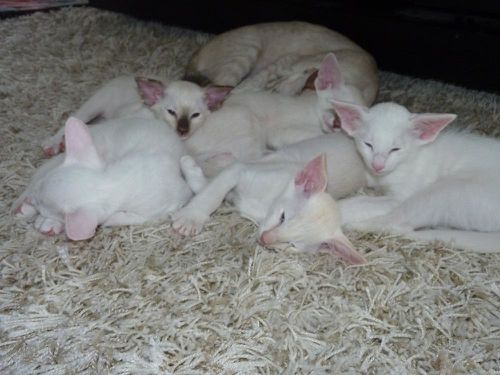 Summer 2010 in Thonon-Les-Bains
Kiddy and her first litter
September 2010: First show with the first kittens born at the cattery.!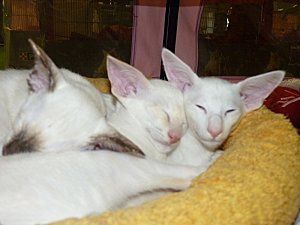 First show for Friday, Fasty & Flint (my first litter)
Oyonnax, France - Sept. 2010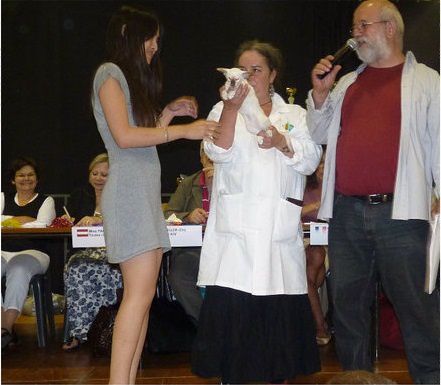 Fifé Show in Oyonnax (Sept. 2010), France
Fasty won BIS on her first day in show just like her mother did as a young kitten!
September 2010: I have to part with my first kittens who go as pets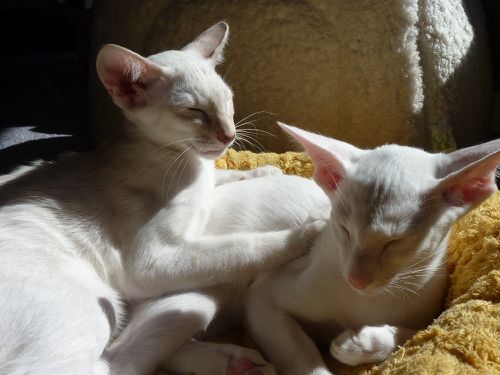 Sept. 2010 -- Fighter in the Wind & French Touch live in Geneva with Maggy & JJ and will be joined later by Suki & Aicha/Hedie
October 2010: Flint Eastwood, the first balinese foreign white bred in France. He twice won BIS (in the kittens class) in Paris during the French Winner Show and over many SH kittens! We are proud!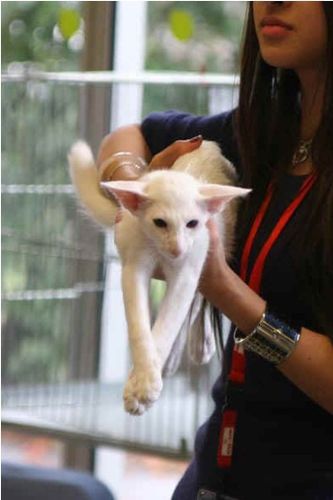 My BIS baby boy (both days) in Paris (Oct. 2010),
Flint Eastwood

French Winner Show (Fifé)

October 2010: First Fifé World Winner Show with kittens I bred myself (Balinesis Flint Eastwood, Balinesis Fast and Furious, Balinesis Friday Night Fever)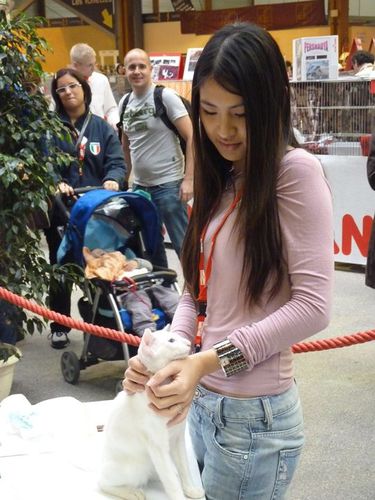 Fifé World Winner Show 2010, St. Etienne, France (Oct. 2010)
Flint was the only balinese cat!!

November 2010: My first cat Suki is rehomed... it had become difficult for him to live among so many cats so I decided to part with him so that he could be happy again. Merci Maggy & JJ pour tout !!

Suki left mid-November 2010 and has been living with Maggy & JJ since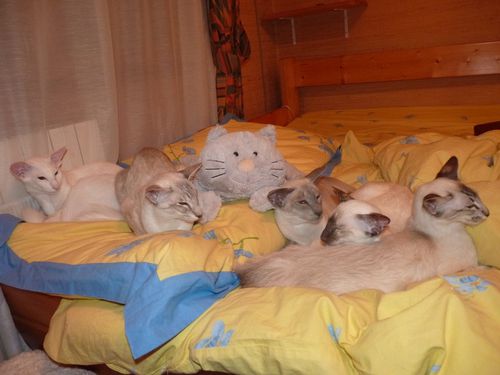 My cats
We made the trip (double sturdi show shelter are comfy for cat travelling!) to Paris to celebrate Christmas 2010 with our families!