Yverdon Les Bains (March 20-21, 2010)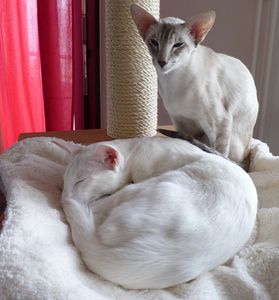 Suki et Kiddy back home. Let's have a nap!


We showed Daïsuki and Kiddy last week-end in Yverdon Les Bains (Switzerland).
Both of them were rather stressed out which is quite unusual: we are used to bring them to shows so that they can stay together and don't get bored but last week-end obviously something went wrong and they were irritated.

Kiddy was judged on Saturday by Mr Coste (France) and by Mrs Rautio (Finland) on Sunday. They gave her her first two Certifcicates (CAC) for the Championship (a CAC in adult class is like an Excellent 1 in kitten class). Only one more point and she becomes Champion!
Kiddy wasn't nominated for the Best In Show but she competed with other stunning females, oriental and siamese (Coco Chanel's India, Calenacats Sweet Sorceress, owner: Annette Chevalley, cattery Purrfect - Sayuri Al Jabal, owner: Sabine Müller, cattery Al Jabal), and we may not forget that it's always a little bit more difficult for a variant to win over pure siamese and oriental... Maybe next time! Anyway, Kiddy is still very cute and rising girl :)

I should make sure that next time she will be in perfect condition and avoid her being in stress because that detail matters (the physic condition and the cat presentation are also important points that the judge evaluate)



Kiddy with Mrs Rautio who is writing down her judgement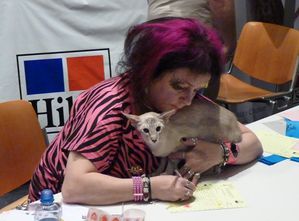 Daïsuki as for him made us a huge surprise. He was judged by Mrs Milcent (France) et Mrs Rautio (Finland), who both find him adorable - anyway who wouldn't?
He got his first points for the CAP (Premiorship, an équivalent to the Championship for the neuter cats)...and...and was two times nominated for the Best In Show!

It's not compelling for a judge to nominate a cat even if he's the only one in a class (here: neutered male), especially if they don't find him special (a cat can get his certificate or Excellent 1 without being nominated), that's what make us even more happily surprised when Suki was nominated two days in a row.

And to top it all off Suki was twice Best In Show last week-end for the first time in his showlife :)

Robert can be very proud having bred such a cuddling and cute kitten, that everyone likes :)



Suki after his BIS on Sunday... he couldn't stay still for the picture so it's a litte unfocused!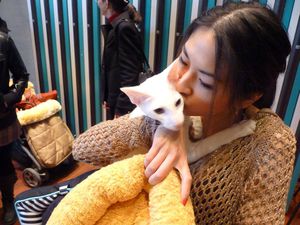 Here's a picture we can see him better

So, it was an interesting week-end but quite tiring for everybody. Shows are always good occasions to talk about cats, to meet breeders again and discover new cats.