Daïsuki de la Baie d'Halong ("Suki")
Foreign white (variant) Home
neutered
Date of birth : 30/12/2008

Sire : Tezigue Cattus Christmas Snow

Dame : Tezigue Cattus C'Kimilili
Show results: click here

Daïsuki is my first cat and the reason why everything started.
I have had a crush on siamese and balinese cats since I came across the webpage of a breeder who will recognize herself if she reads these lines! I visited her, at this time, she still had siamese (variants) kittens of her last litter. And after I have been staying there a couple of hours enjoying these little mini-felines, I decided to start a quest for one of those magic creatures for me.
That's how I met Robert from La Baie d'Halong cattery near Mulhouse (France). From that moment on he began to tell me everything about Daïsuki since he was born untill he reaches three months
old.
It was still 2008 and I had to find a name starting with the D letter, I choose Daïsuki because it means "beloved" or "I love you" in Japanese, and I thought it would fit him like a glove.
Daïsuki is a Foreign White Siamese (variant) (in France, it is called oriental with blue eyes) who was born on December 30, 2008.
Here is a picture of my baby when he was two weeks. He looks like an alien :-)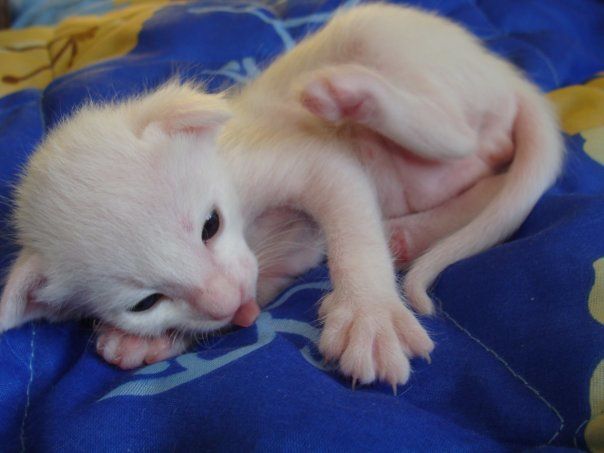 Another picture at six weeks when he started to look more like a cat and to play.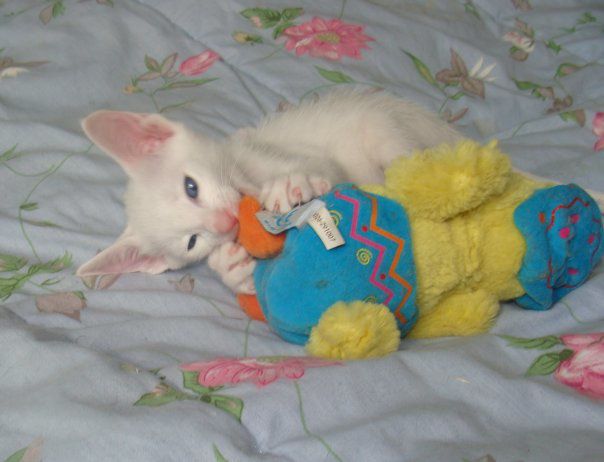 Here is Daïsuki again, at ten weeks, he was sleeping on Robert's leg. He looks so peaceful...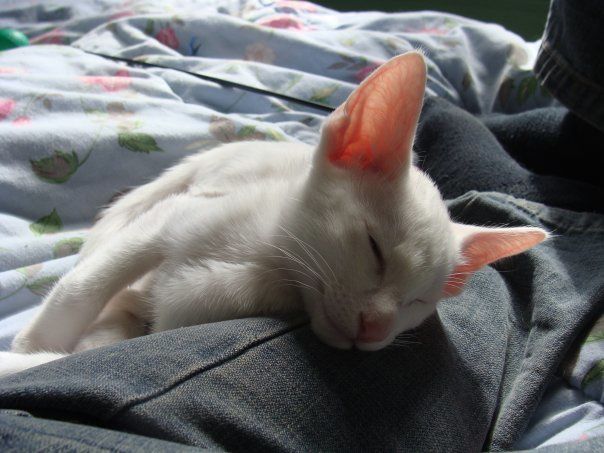 I visited him for the first time on March 13, 2009. It was the occasion to come and see Robert and his cattery.
I then came back to bring him home with me by train on April 1, 2009.
Poor little Daïsuki had to endure the long door-to-door four-hour trip. He looked a little afraid at first in the kennel but soon resigned himself to being shut in. He stayed still and quiet during the trip, but with the metro in Paris - noisy - he had rather a bumpy ride.
Fortunately we soon arrived home and my new kitten could discover step by step the space I have been layed out for him with so much love and care while I was waiting for him to arrive...
Daïsuki fit very quickly to his new environment et to his new mommy.
Here is the one who maee me want to breed balinese cats and love so much the foreign whites: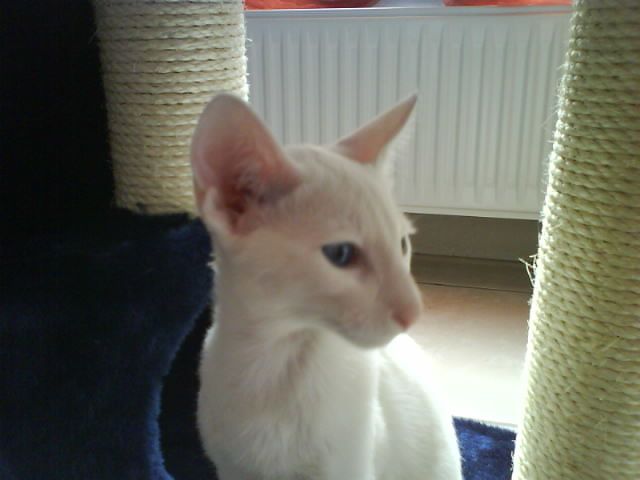 Here he is, striking the pose in his little cozy red bed: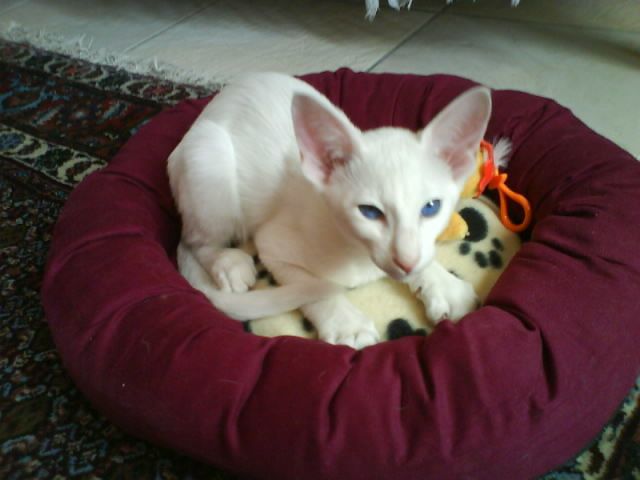 Suki only stayed 10 days with me in Paris, then I moved to Rhônes-Alpes near Switzerland and took him with me!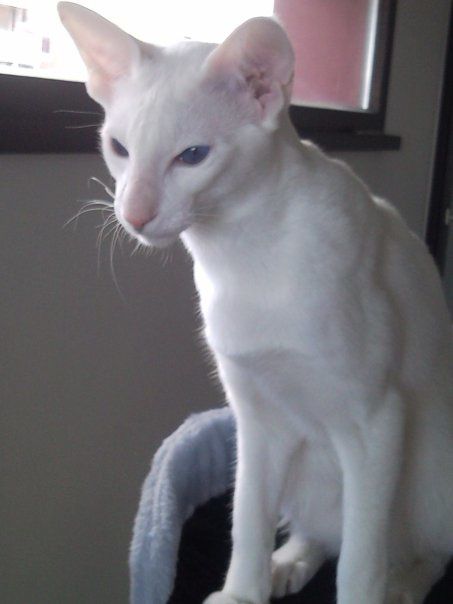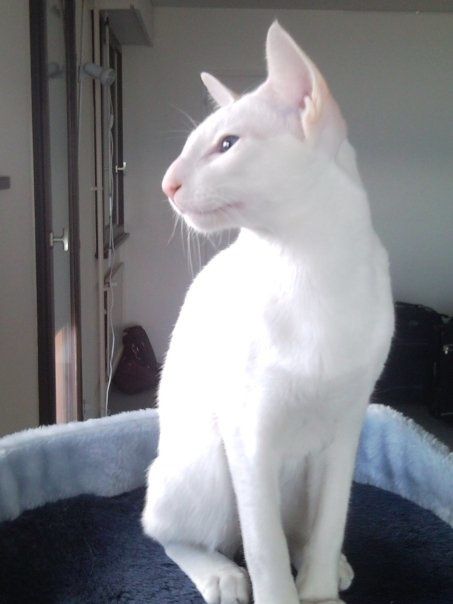 Daïsuki was neutered in June 2009. I have him as a pet and he seems to be happy with his life here. He is an only-cat and rules his two owners at home, it is like a dream for him! What's more, we attend to his every need :-)
Updates: Suki has been living with Maggy & Jean-Jacques + two kittens I raised since December 2009 in Geneva